Why not try and make a plan and then stick to it?
the making of a plan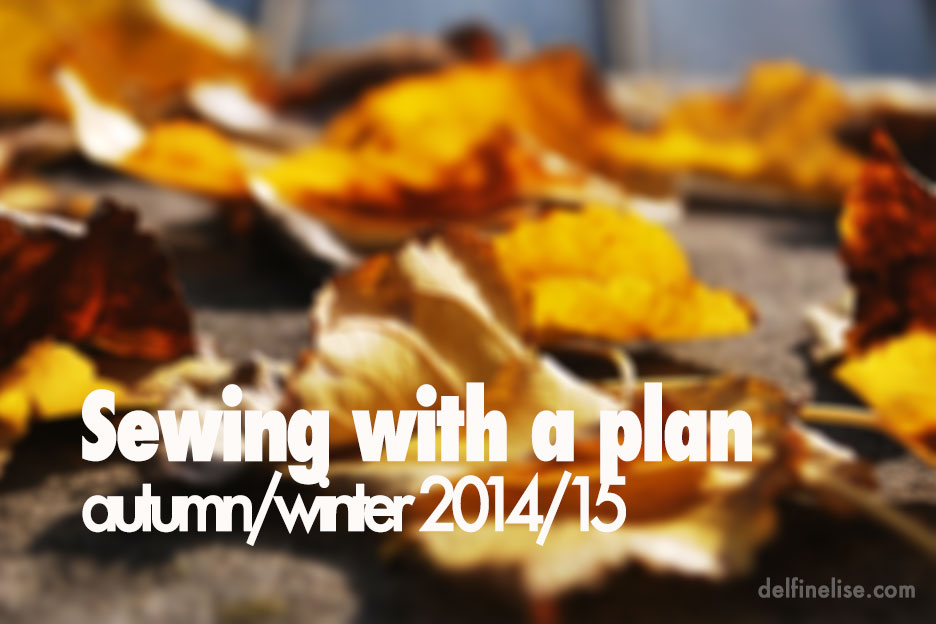 I went through my yarn stash recently. Since I no longer knit much (because of some neck/back issues), I thought it wise to free up some space by letting go of some of my yarn. That felt really good. So this morning I went through my fabric stash. Now, not so long ago I went through my fabric stash and gave away lots of silks/wools/cottons that I had been saving little scraps of. So my stash does now mostly consist of actual meterage (for the most part 1 meter or more).
Fabric with a plan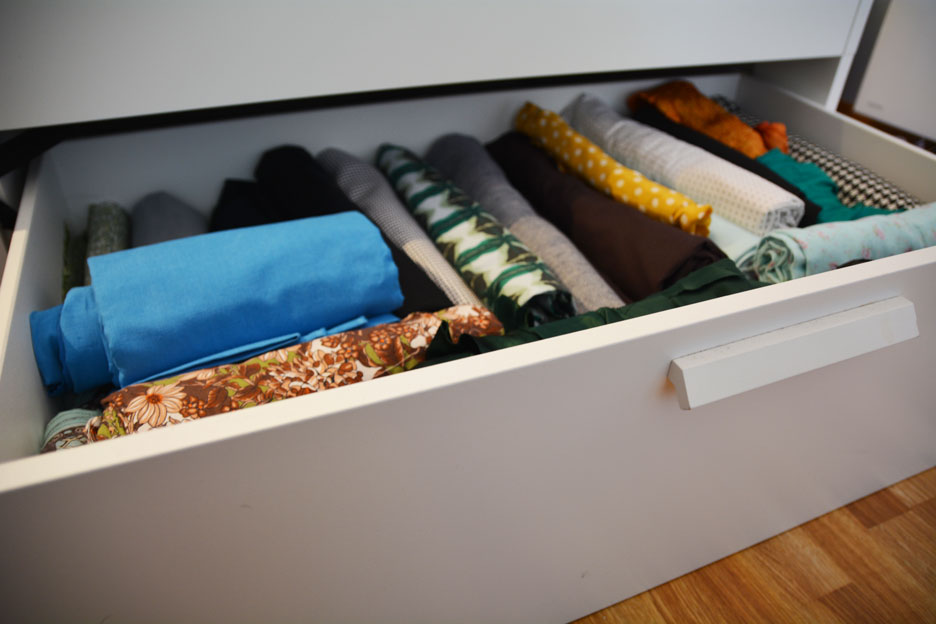 I love my stash. It´s colorful, diverse and it almost exclusively consist of natural fibers (the exceptions are fabric left over from projects sewn for others). Sadly, so much of it is just floating around without a plan. I have over the years tended to buy "bargains", not knowing exactly what to make of it, but still buying in the right colors/fiber content/weight. So today I made a plan. I will, over the course of the next six months try to sew up two three pieces of stash fabric every month. Considering my personal sewing record (I think it was 80 items during 2011), I am not overly concerned about not being able to sew all of this in six months, but I do wary the need for eighteen new garments in my wardrobe. Some things, like for instance a couple of new special occasion dresses, are clearly gone missing, but other stuff, like more skirts, are harder to justify. So I guess, if I am adding eighteen new garments to my wardrobe, I need to let go of eighteen old ones that I don´t use anymore.
Sewing with a plan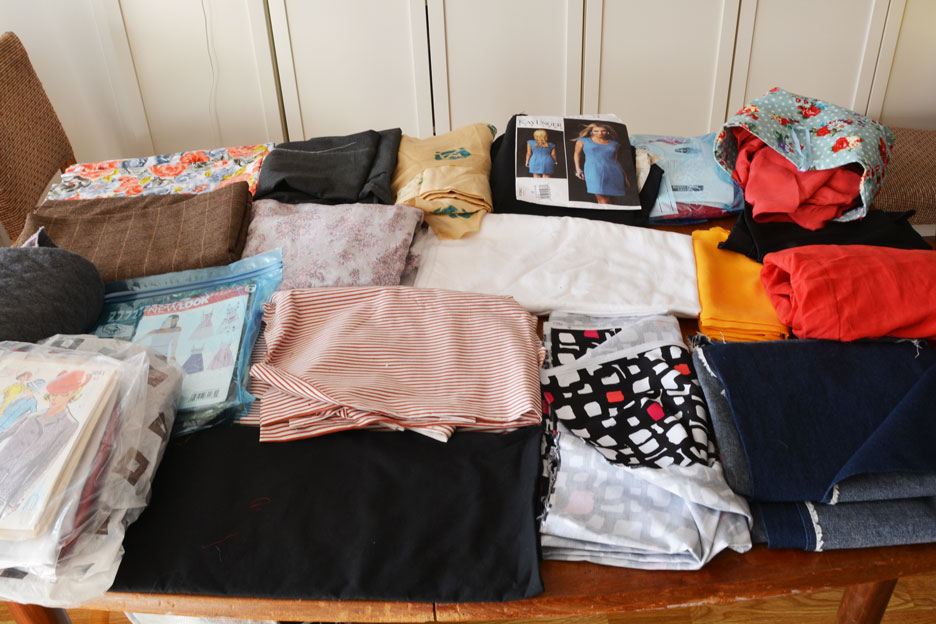 As those of you who have followed my sewing adventures for a while are aware of-  I love a good plan. Whether or not I really stick to it, is more up to question. It doesn´t really matter for me if I make everything on my lists, because for me, the plan is more like an excellent way of getting my creativity going, and some more sewing done. How much of the initial plan that gets a life as an actual garment, is not as important as the will to sew. So without further ado, here´s my plan:
My fabric choices: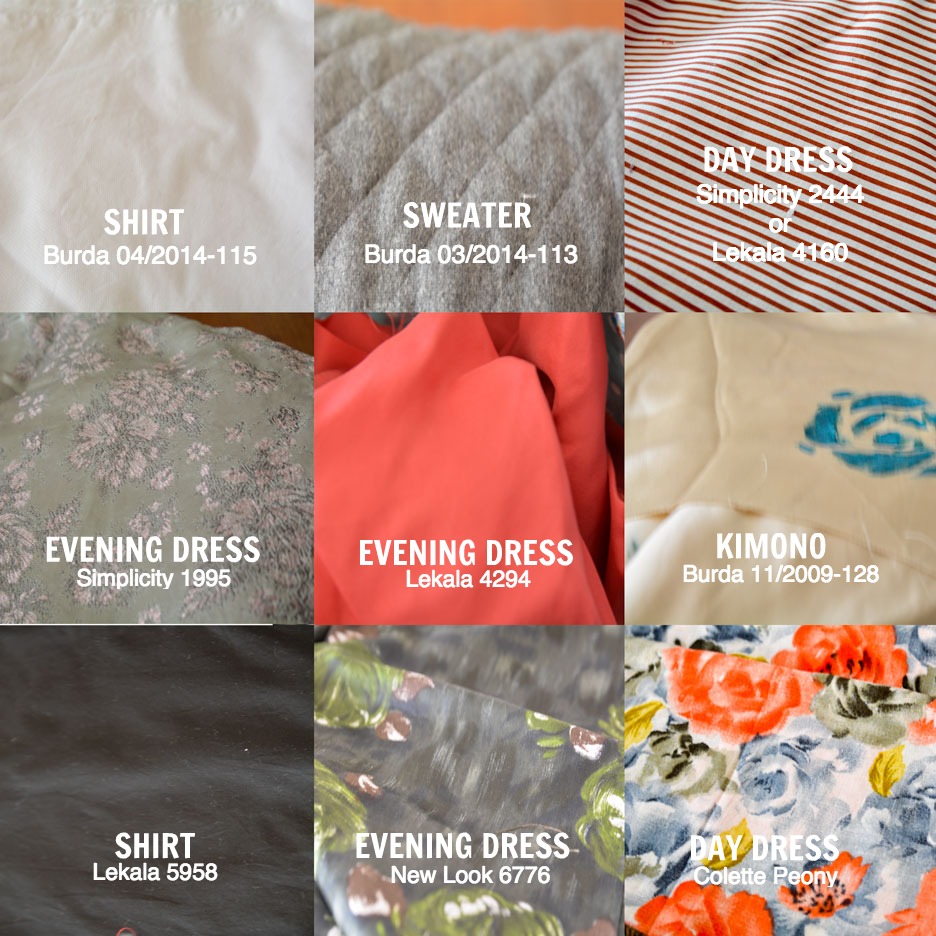 As you can see I am not really keeping to one specific color combo or anything like that. I have chosen my fabric with a couple of things in mind
The need for a garment like that
How long the fabric has been in my stash
Do I feel excited about this project
Is it seasonally appropriate
All arguments, are in my opinion equally important. There is no point in trying to force myself to make something from a fabric I don´t feel excited about. And the winters are long here in Norway, so it´s good to make garments that I can get a use for in the upcoming months. When I look through my picks, I notice that the fabric, more or less, falls into two categories. Fairly new acquisitions , and rather old ones. This is important for me, because the fairly new ones have been bought with specific needs in mind, like work attire, or to replace something that is worn out. The selection of old fabric is simply because I really love them, and would like to see them made into something pretty.  For each project I finish, I will try to tell you a story about the fabric, and why I got it, hopefully accompanied by pictures of the finished projects. Here´s to hoping!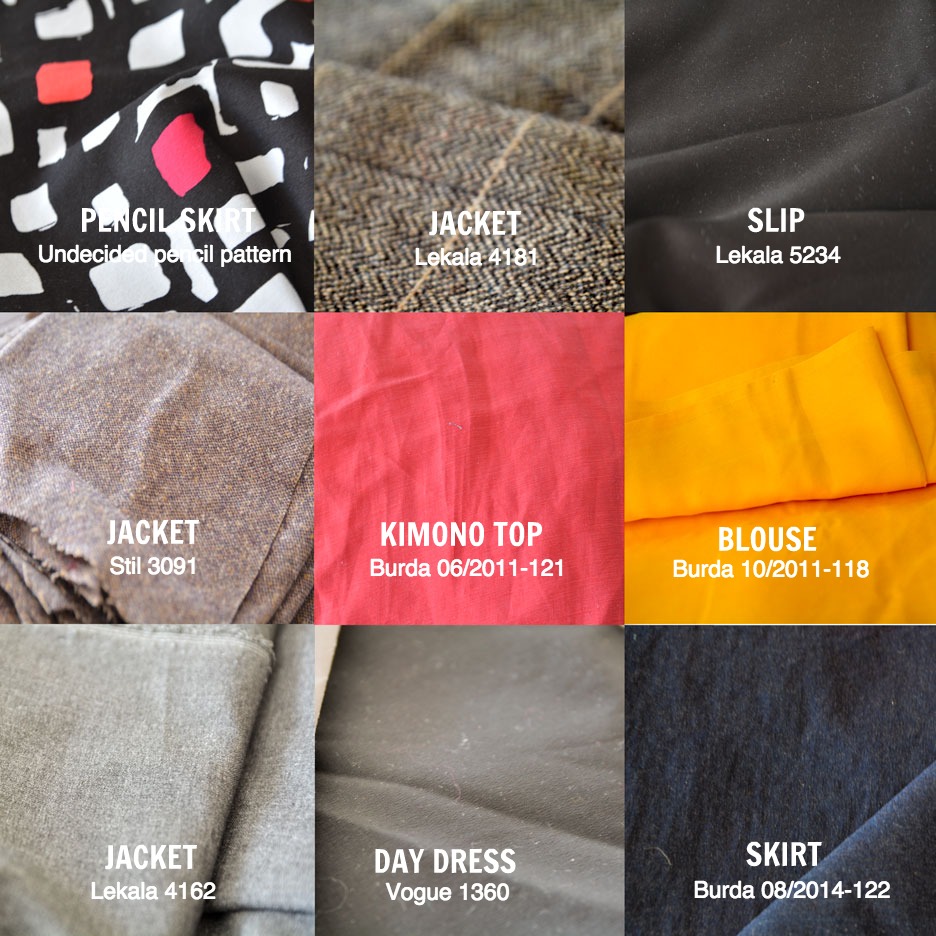 Connecting
Sewing is more fun, though, if it is done together, so I am hereby registering myself as a participant of this years edition of the Fall Essentials Sew-Along.  It kickstarts September 1st, so that is the perfect timing for me. Thank you again, Sarah for being awesome and taking the initiative for this.