Vogue 2960 – The Rosie dress
I did a wedding job a couple of weeks ago, and the couple wanted a fifties flair to their wedding, so we played old classics like That´s Amore, Mambo Italiano and a lot of Sinatra classics. Just look at Rosemary Clooney in this video. She is fantastic! (Did you know – she was the aunt of George Clooney?)
Best of all was that I had an excuse to make an over-the-top fifties dress, and be able to wear it! Yey!!!
Here´s the pattern: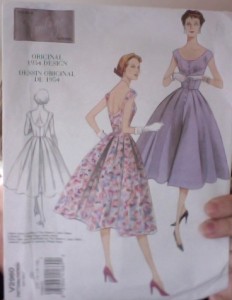 …and here´s the result:
It´s obvious from the photos, I see this now, that I should have adjusted the waist a bit – see where my belt is, and where the seam is? But when I made it I had more concerns with the closing.
Originally this pattern calls for bound buttonholes. I don´t have the fabulous tool everybody is talking about, and I have never made bound buttonholes before either. I tried making some from scraps, but soon understood that there was NO WAY I would be able to make nine (!) buttonholes on a straight line…Soo, my fantastic mother suggested I make the closing that you see in the pictures. It´s just loops of satin cord sewn onto the facing. This, off course gave me some other concerns, as the whole thing didn´t come out symmetrical. The buttons are 1,5 cm to the right of the middle. But, at that point, I just ignored it and made it work.
I am very happy with the result, though! This is a pattern I have been wanting to try for a long time, and when I found this fabric I knew they were the perfect team! This dress is marked Easy on the envelope, how it´s possible to say that a dress with a million pieces, bound buttonholes and a fitted bodice is easy, is more that I can understand, but it is really fun to sew up with you have a bit more experience!
OK, so that´s the last summer dress for the year – I promise!