I am back with more fun that you could imagine! Starting now, and continuing throughout May, there´ll be a new sew-along in town. Say hello to: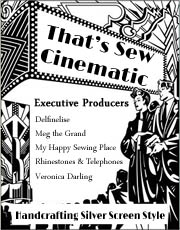 Sarah of Rhinestones and Telephones, Veronica from Veronica Darling, Meg from Meg the Grand, Debi from My Happy Sewing Place and myself are introducing a new fabulous sew-along where we are getting the inspiration from the Silver Screen – That´s Sew Cinematic. 
This sew-along couldn't have a better source for personal inspiration: creating garments inspired by your favourite actors/actresses from film, stage and television. You can create items from every category or only a few – whatever best suits you!
By using movies as inspiration, the options are endless. That´s why we´ve come up with some categories that might get you started:
FROCKS FROM THE FLICKS
From Givenchy's iconic black dress from Breakfast at Tiffany's, to Marilyn's white halter dress from The Seven Year Itch, to Scarlett's velvet curtain dress from Gone With the Wind, frocks of all styles and eras have left their mark on cinematic history. Whether you are inspired by an icon or simply by a pretty frock only just glimpsed, this is the place to let your dress dreams run wild!
TINSELTOWN TOPPERS
There are so many beautiful blouses and tops that have graced the silver screens, both large and small. Katharine Hepburn's masculine tailored white shirts, which she wore throughout her life, is one that easily springs to my mind. Whether you are inspired by crisp tailoring or flowing lines, toppers of all styles are welcome here.
FEATURE FILM FOUNDATIONS
From Rizzo's slinky black trousers in Grease to Marsha's fabulous flares in The Brady Bunch, to Joan's sensational pencil skirts in Mad Men, skirts, trousers, capris, and shorts are the way to go here!
SLIP INTO THE SILVER SCREEN 
Elizabeth Taylor cornered the market on slinky sultriness with her simple white slip inCat on a Hot Tin Roof. Whether you want to channel your own Inner Liz or mould you figure to a more Lilly Langtry frame of mind, this is the place to sew yourself some small clothes.
THE SWEATER GIRL
Nothing says silver screen style quite like the sweater girl. No sweater girl is better remembered than Lana Turner. Whether v-neck, pullover, or cardigan is your style, knitted inspiration can be found here. For those more inclined to sew, how about a Pink Ladies jacket? Let's not forget our headgear, either! Here is the place to show your outerwear!
THE ABILITY TO ACCESSORIZE
Accessories of all sorts are welcome here! Nifty hats, lacy shawls, beautiful brooches, and natty socks. Whatever puts that finishing touch on your ideal outfit should be shown off here!
So, there you have it, are you as excited as I am? This is going to fit so well together with my idea of making fun garments. Next week, I´ll share with you my ideas and plans. Come on and join the fun! If you´d like a button for your blog, stop by Sarah´s and get one, and there is also a Flickr group you are most welcome to join.
I can´t wait to see who´s in! 🙂
Have a lovely weekend!