A friend of mine and I were discussing the topic of choices, while we were out walking. For once the sun was out, and it was a perfect time to get some fresh air and meet some good friends.
Needless to say, in most places of the world, freedom is viewed upon as a great thing. In fact, one of the most highly valued documents in the world is the UN´s  Universal Declaration of Human Rights, where the issue of freedom has a most important place.Tthe first article of this declaration is:
"All human beings are born free and equal in dignity and rights.They are endowed with reason and conscience and should act towards one another in a spirit of brotherhood."
Freedom in this context is a necessity for peace and prosperity in the world. But I feel that, in many Western countries, freedom is often exploited and misused as a synonym of "having many choices", and that having the freedom to choose is the same as freedom per se. I don´t agree with that. The reason for why I don´t agree with that is that, although I can have lots of choices, I often feel trapped and, ironically, unfree, because there are too many choices.
For instance, in Sweden we have the "freedom" of choosing which health center or doctor we would like to see (we have a state governed health care system). Now, it´s great that, if you aren´t pleased with the doctor you go to, you can change that, but if you (like I) really don´t care much about who is your doctor, this "freedom" is one I really don´t need. I would much rather that the county gave me a "default" doctor, and then I could change if I wanted to. I know that, for many, this is a political issue, but for me this is a way of viewing life, and it affects my sewing as well. There are so many patterns to choose from! And there are so much beautiful fabric, buttons, trims etc. etc. But how does it help me, if I can´t deside, because there are too many choices? And more importantly, if  I don´t know how to make the best choices?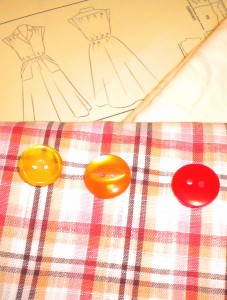 Three different buttons to chose from, not a million…
For the untrained ear, jazz improvisation can sound like the musicians just picks notes on random, and that it in that way is completely "free". But for the musician, jazz improvisation is to interpret a song in a certain way, using certain chords or scales as the frame. As a musician you are always a part of a tradition, either you like it or not. You can always try to come up with new things, and push the boarders a bit, but it is always, in one way or another, reacting to what have come before, and what is happening around you. I know this, because jazz music is in one way the back bone of my musical training, my native language of music, if you will.
And I am starting to realize that in sewing, I still have so much to learn, and so much to experience. I don´t speak "sewing" fluently yet, if I may continue with the language metaphor. And that is why I have a hard time choosing at times, I think. In musical improvisation I "just know" what´s right and what sounds good, and what I find exciting and interesting. In sewing, though, many a time I need to learn things the hard way. For instance about what fabric choices are good for what type of patterns and what pattern styles are most flattering on my body.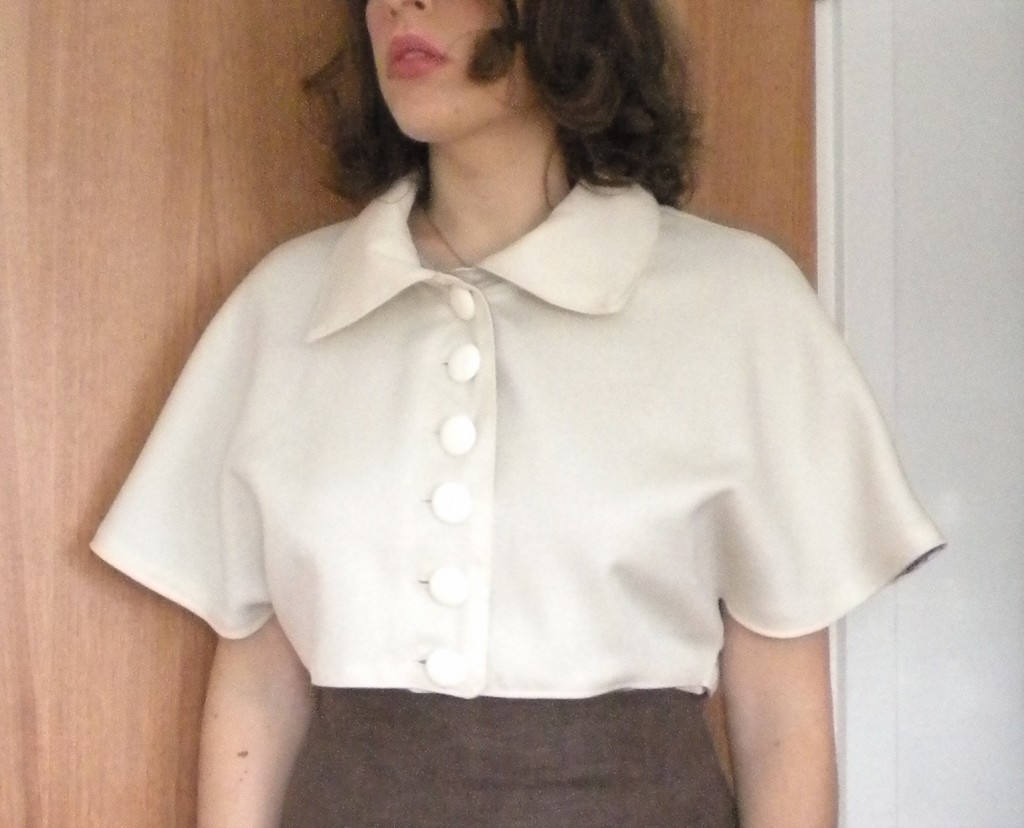 My original idea for this one was to have three oversized black buttons, but I didn´t have that in my stash. Instead I used six thrifted white buttons from my stash that worked equally well .
Last year, I learned a lot about sewing, and I really feel that I am on my way! For this years challenge, I have as my second goal to use as much as possible from my stash before buying new. And this makes the boarders I work within more visible. I don´t have all the choices in the world, I only have what I have. And by forcing myself to try to combine fabric, lining and buttons with each other, new and unexpected things can turn up! I am much more creative when I have some guidelines to work from.
The Colette Spring Palette Challenge 2011 and the Sewing Through the Decades challenge also helps me stay in focus, and helps me to be creative within borders. Just the way I like it.
Freedom within boarders.
So, how about you? Boarders or not? Or do you have other ways of deciding what to make and what to not make?