Me Made May 2014 – a review.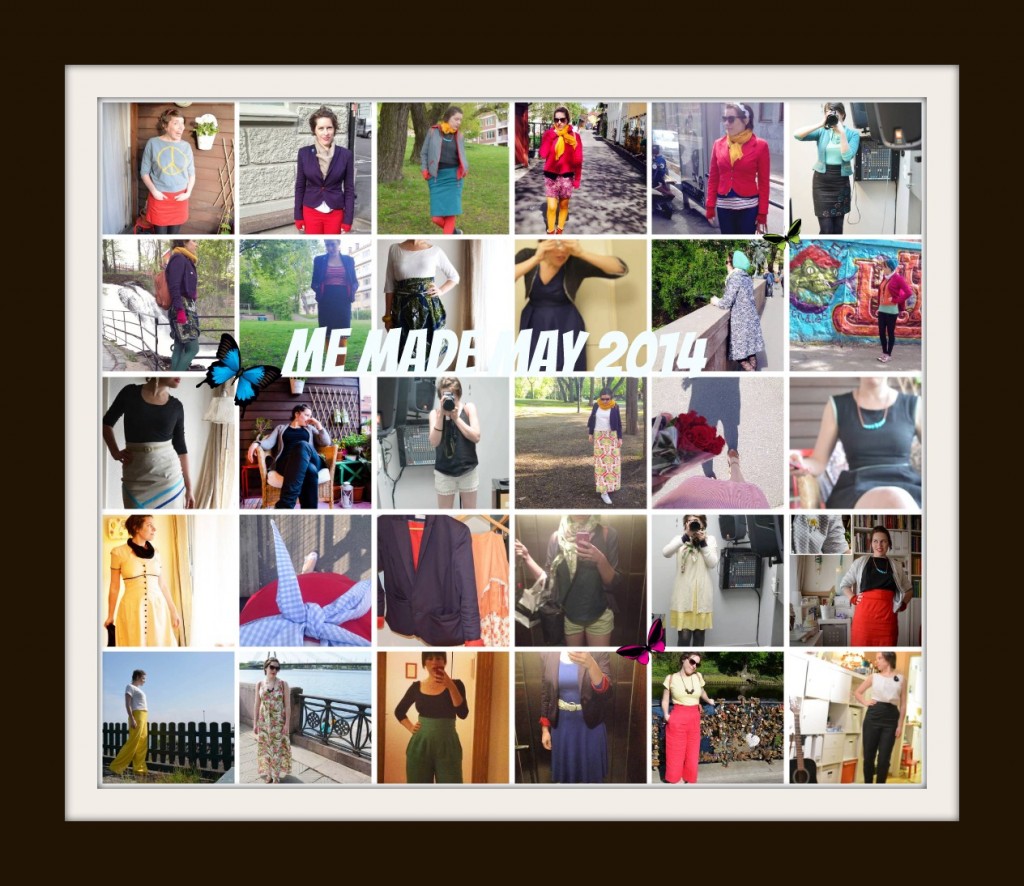 Another Me-Made-May is over, another lesson learned. As always I had a wonderful time, enjoying the company of all the brilliant participants, and I would like to say thank you for all the lovely comments and likes I received. You guys are the bestest! In retrospect, I see that my ambitions for this month were quite high, compared to the amount of time I have on my hands. Oh, well. You live and you learn! To refresh your memory, here is my pledge:
"I, Sølvi of delfinelise.com, endeavor to wear only me-mades throughout the month of May 2014 (with the exception of tights, footwear and underwear) with no repeating garments (with the exception of outerwear and training gear). Each day I will also wear at least one piece of me-made accessory, and I will blog about every unblogged garment."
I also mentioned in my blog post on MMM that I wanted to experience more with taking better photos.
First part of the month
The first fortnight of May was unusually cold, and I was afraid that I had to break my pledge and repeat garments, because of the lack of warm sweaters. Fortunately, the weather  became more cooperative, and I could break out some summer dresses and other fun stuff. What I learned from this part of the month was that I actually have plenty of cold weather layers, like cozy hand knit sweaters and cardigans, but that I still lack some more transitional layer garments, like cardigans in cotton or linen. This lead me to making three garments that fit into this category, and I now feel that I have more options of me-mades to choose from.
I made (another) Tamanegi- Kobo Heather, this time in a luxurious knit silk, I made a bomber jacket in a sweater knit, and I made a long and flowy cardigan in a linen knit. The long cardigan is McCalls 6844, the bomber jacket is BurdaStyle 02-2013-125.

Second part of the month
As mentioned, the weather turned better in the second part of the month, and I could choose more freely from my wardrobe. It got quite hot outside, and many of my summer dresses finally saw the light of day. It is so much fun to be able to wear all of the colorful dresses and outfits. Yet, my favorite outfits this month are made up of separates and layers. I guess, as much as I love a pretty dress, I personally seem to steer towards separates more often. During the latter part of May, I got some issues with my head and neck, and so I tried to keep away from the screen as much as possible, such a shame, because I missed out of most of the Flickr- pool fun. Oh, well. I can always go back and have a look later. I went on a couple of trips during the last few weeks of May, leaving little time to sew. I did manage to squeeze in some time to make a Closet Case Patterns Nettie, though, which I love! I am definitely making me some more of that one.
Keeping up with my pledge?
Well, I guess I didn´t manage to write up as many blog posts as I´d wished. When it comes down to it – I rather sew than blog. Also I find it hard to take detailed and worth while pictures of the garments as well. I live in the middle of the city, and finding good (empty) spaces for taking photos have proven difficult. So, I guess I set the bar too high for myself on that account. I didn´t have any garment repeats, that was a surprisingly easy challenge – and I still have lots of garments that didn´t see the light of day. The thing I did learn was that I reach for solids rather than prints at the moment. So that is a great lesson learned. My accessories did get a better rotation – I am very happy with that! I love to spice up a regular outfit with some fun accessories, so I might actually make even more this summer.
concluding words
Again, Me-Made- May has given me some lessons about my me-made wardrobe, and again I truly appreciate the wonderful community, both on Flickr, blogs and social media. I enjoy the versatility in experience, cultural background, style and age. I am so lucky to be part of such a beautiful community. I am amazed about the share amount of inspiration, as well as the diverse styles out there. So much inspiration to be found. A special thanks to Zoe for arranging it this year as well!
Me-made forever!