Hepburn/Hepburn: The Kate Trousers!
Can you believe it? I have finally finished a Hepburn/Hepburn- garment! I finished the last couple of stitches on my Katharene Hepburn inspired pants today, and managed to take some half-decent pics. It´s so hard to take photos in autumn. There is way too much weather all the time!
Anyways. These trousers are made from a light wool fabric I recently bought. Originally, these pants were supposed to be blue, but I had accidentally bought too little fabric, and so I decided on this nice plaid one instead.
The pattern is from Burda Magazine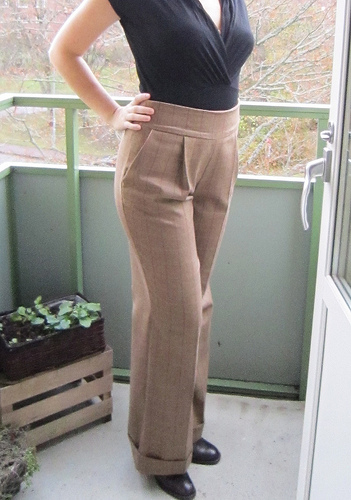 . It´s pattern number 127, and is especially designed for ladies taller than 176 cm. And that includes me. Hurray! Finally a pattern for trousers that  I don´t need to adjust much!
The cutting and sewing of this one went rather smoothly, it´s got a zip in the side, which I prefer, pockets, and a rather high waistline. I like the way they turned out. The only adjustment I did was taking in the side seams with 2 cm in each side from the waist to the hips. Otherwise, they are exactly as the pattern.
What do you think, would Kate wear these?