Edit: I had no idea, but a post over at the Coletterie stated that it is Corduroy Appreciation Day today! Fitting, no?
So, I finally finished my corduroy pants! I´ve been wanting to make a rust colored pair since seeing Carolyn´s version. I have already told you about the beginnings of these pants, so here comes the finished product.
I used BurdaStyle Magazine 10-2010-110, omitting any back pockets and leather details. Just as for the shorts I made using this pattern, I got good help on zipper insertion from sewing goddess Sandra Betzina in this video over at Threads.
I am pleased with the final product, and they came out the way I wanted them to be, but I am reminded, while wearing them, that I am more comfortable with a side zipper. I just feel more at ease having the zipper out of the way! So I´ve actually started on another pair of corduroy´s – with a side zip…
On the pictures I wear them with a knit top I made from a scrap of the same fabric I used for the knit dress.
 BurdaStyle Magazine 10-2010-110 
Pattern size: 34-42
Avaliability: BurdaStyle Magazine
Pattern type: Pants
Rating: Highly recommend
Pattern Description: Flat fronted, mid-rise trousers with faced waist, fly front, slanted hip pockets, back single welt pockets, underlap with button for internal closure, outer tap with button for another waist closure.
Did it look like the photo/drawing on the pattern envelope once you were done sewing with it? If I ignore the fact that I did some changes, yes.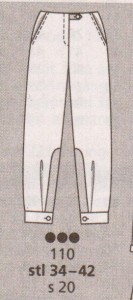 Were the instructions easy to follow? I didn´t really follow the instructions, as I wasn´t going to have all the details that is included in this pattern. But the instructions seems to be quite thorough, when I look at them in magazine!
What did you particularly like or dislike about the pattern? I like the leg finish, and the side pockets. I also love the rise. On second thought I am not too fond of the front fly zipper, but that is only my personal taste, and has nothing to do with the quality of the pattern!

Fabric Used: I used a thrifted corduroy fabric.
Pattern alterations or any design changes you made:  I used a different zipper insertion method, I omitted the outer tap with button in the waist, and I omitted the leather placket on the legs, and I also didn´t include the back pockets, all of which makes my version of this pattern much easier than the original.
Would you sew it again? Would you recommend it to others? As I have already made the shorts from this pattern, I think I might not use this again, but you never know? I will recommend it to others who want a pair of pants in this style!
Conclusion: A well constructed pattern with lots of options for unique details!