FESA update: The jersey dress
I am almost finished with my corduroy pants, but I have a little left on them. I did however make this jersey dress last week. I had it cut out a while back, and when I finally started to sew, it was quite easy to make. The pattern, BurdaStyle 05-2010-103, is originally for woven fabric, but it worked fine with the rayon jersey I had got on sale earlier this year. I allowed myself to get some knits when they were on sale, because I didn´t have any in my stash, and I knew I wanted to make some knit tops and dresses. They are so comfy during the autumn and winter months!
Inspired by the magnificent Carolyn, I made a little collage trying out different ways I could wear this dress. It´s so easy to get stuck wearing it just in one way!
Alright, so here is the pattern review:
BurdaStyle 05-2010-103
Pattern size: 38-46
Avaliability: BurdaStyle Magazine and burdastyle.com
Pattern type: Dress with shirring.
Rating: Easy, and great for beginners.
Pattern Description: Knee-length dress with shirring in the front.
Did it look like the photo/drawing on the pattern envelope once you were done sewing with it?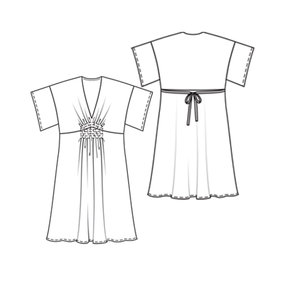 Were the instructions easy to follow? I didn´t use the instructions much, as I had read on PR that they were a bit confusing.
What did you particularly like or dislike about the pattern? I love how easy this dress is to wear!
Fabric Used: I used a rayon knit bought at Ohlssons Tyger in Sweden.
Pattern alterations or any design changes you made: I omitted the sleeves, and made a narrow zig-zag hem instead. I didn´t include the ties in the back either. And the dress is supposed to be lined, I omitted that too. I finished the neckline using this excellent tutorial. Because of the stretchy material I used, I had to take the dress in considerably in the side seams, but that was easy to do, and didn´t affect the overall design, IMO.
Would you sew it again? Would you recommend it to others? I might make this again, as I have mentioned before, this is just one of those dresses that is so easy to wear, and I love other people´s versions in chiffon as well. I´ll absolutely recommend this!
Conclusion: An easy to make, easy to wear dress, I can see this becoming a wardrobe staple in the coming months!