An update might be in order.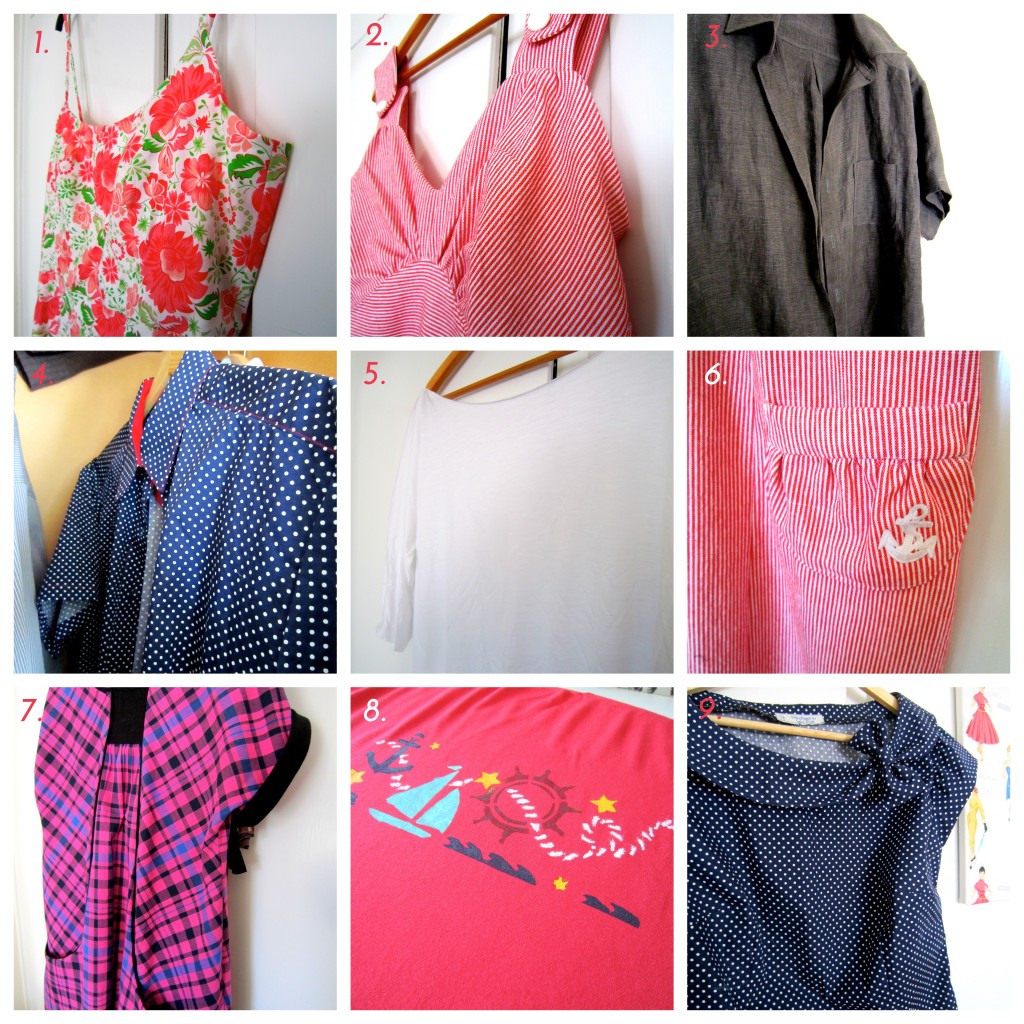 During the last couple of months I haven´t been able to show you much of anything I´ve been sewing. Because I have a neck problem, my computer time has been limited for work only, but I am slowly getting better, and hope to return to "regular schedule" during the next couple of months.
Speaking of next couple of months, guess who´s moving during the summer? Yup, it´s official, my darling and I are moving back to Oslo this year. I am so thrilled to go back to live in the same place as most of my friends, and to be able to live by the sea again. So in the spirit of the ocean, you might notice a slight trend in the pictures above… I´ve been sewing, both for myself and for others, but I haven´t had the time to take decent pics yet, so I´ll just give you a sneak preview:
Summer dress, inspired by the dress Megan wears when Don and she visits LA in the previous season of Mad Men.
A candy striped Ship Ahoy Parfait.
A Rum Diary inspired linen shirt for my man.
A polkadot shirt, also for my man.
A white knit basic top.
Another detail of the Ship Ahoy Parfait.
A Lisette Portfolio for a friend.
A textile print on Steph´s blank canvas tee.
A little blouse for me, using the remnants of the polkadot shirt I made for my man. Imagine if we wear them at the same time! Oh, the hilarity! 🙂
As you might notice, lot´s of these items fits perfectly into my Fun!-theme, as well as That´s Sew Cinematic!
By the way, who´s joining Me Made May, this year? I am so excited about this years edition, as it´s going to be a real challenge for me. I ´ll explain why. This May, apart from working regularly, there will be:
Two concerts with my choirs. Both with specific dress codes.
17th of May, the Norwegian national holiday, this year celebrated together with my family.
My man is defending his dissertation, and we are hosting a BIG black tie- party.
I am going to Norway to work at the Viking Age Museum (wearing historical garments).
Hopefully, I will have some job interviews to go to…
My birthday, and my man´s birthday.
May is going to be a fairly busy and very versatile month, and I´m gonna do it Me-Made style! So,  'I, Sølvi of delfinelise, sign up as a participant of Me-Made-May '12. I endeavour to wear all me- made garments, with the exception of national costume, socks, underthings and sportswear each day for the duration of May 2012'
The part about national costume is of course for the 17th. I don´t know if I´m gonna wear my national costume or not, yet, but even if I´m not, the red linen dress I´ll wear instead is made by my mother. Oh, my mother made my national costume, as well! So it will be handmade, just not by me.
So, have a nice Easter Holiday, if you celebrate it (it is my favorite holiday!), and enjoy life!