I was trying to make a pair of shorts the other day, and I thought that I MUST have some appropriate fabric in my stash. After all, shorts doesn´t take that much fabric! I did find some fabric for my shorts. I also found the insight of the necessity of going through my stash. Again.
A little warning for the newbie-sewer: I have only been sewing since 2005, and on top of that, really haven´t made a conscious choice to build a stash. And, I´m not especially rich or anything, I can´t buy everything I want. I usually get my stash on sale or I thrift. Still, my stash has grown completely out of control! So be ware!
The good thing about fabric, is that it doesn´t take up that much room. The bad thing about fabric, is that is doesn´t take up that much room. Each individual piece, that is. But when all of these little pieces come togheter, it´s one BIG party. Too big for my appartement.
So I am taking control over the situation.
I have detected five main components of my stash, where the first and second parts are the absolutely largest ones:
Apparel fabric
Refashioning projects
Muslin fabric
Quilting cottons
Home decoration fabric
Let´s have some cake on that: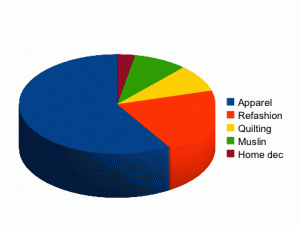 From these findings, I draw the conclusion that my favorite past time activity is to sew clothing…. To get some system in all of this, I sorted my apparel fabric in first two parts, then in several smaller ones.
Let´s add a flow chart as well, just for the fun of it: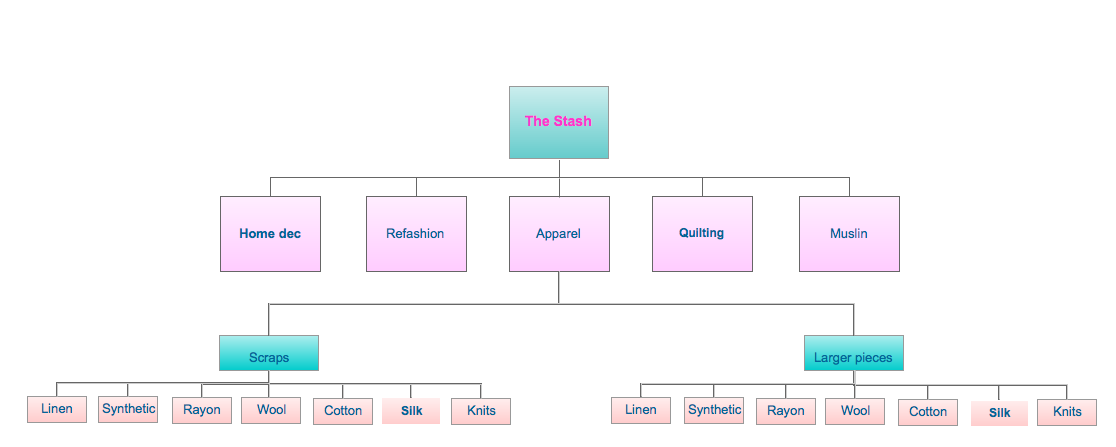 (Click the image for a better view)
After having sorted through everything, I feel much more at ease. I have pulled out all the fabric for stuff I want to make this season, and put everything else in clearly marked boxes. I now even have a designated place for my interfacing! I never had that before. Oh the joys of organizing!  I got rid of all of the smallest scraps and bits and pieces, and now that everything is organized, I actually know that I for instance have lining for every pocket I would want to make in the near future, I´ve got some seriously great looking silk fabrics I´m dying to use, and I can make several coats and jackets for the upcoming colder season. Who new?
In addition to my newly organized stash, there are some gorgeous fabrics just waiting to be shipped to me at my parents house as well. My mother did some de-stashing this summer, and amongst other stuff there was a little something for me. Where I will place all of that fabric when it comes my way, will be a problem for later. For now, I am happily sewing through my stash!