First of all,  thank you everyone for your kind words on my last post.  Maybe a cliché,  but I now feel,  much more than before,   a compassion for,  and a relation to the people in our world who are suffering and experiencing mindless violence every day of their lives.  My heart goes out to all of you.
With that said,  I will now continue to post on a more regular basis than I have been the previous months.  Summertime for me involves such a different way of living than the rest of the year,  so I apologize that my blogging has been sparse.
I have,  however,  been sewing.  And thinking about sewing.  I have made some stuff during the summer,  a skirt,  some cropped pants,  a couple of Sorbetto´s (who haven´t?) and some knit pieces.  Eventually,  I will show you all of this.  But for now you have to settle for pictures of one of my Sorbetto´s.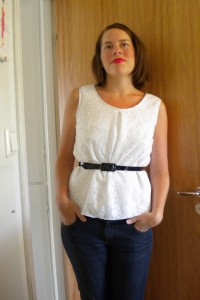 The Lemon Sorbetto
I guess I´ll have to call this Lemon Sorbetto,  because this reminds me of all the tasty lemon sorbet I have been eating this summer.  Mmmm…  For my first version of Sorbetto,  I didn´t infact make a FBA,  I just went up a size,  but for my second version I DID make a FBA,  but I forgot to go down a size again,  so it is a bit too big.
Lesson learned:  Always pick pattern size based on your UPPER bust measurement,  Sølvi!  And then go a head with the FBA.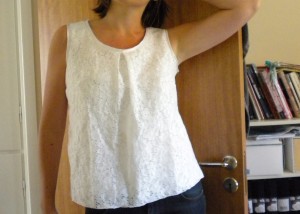 Photo trying to illustrate that it is a bit big.  But I don´t mind.  I like it like that! 🙂
I made it from a lace fabric and a silk/lycra fabric,  underlined and stitched together.  Both from my stash (yay!).  I used french seams in the sides and at the shoulder seams,  and then I hemmed by using the rolled seam on my overlocker.
OK,  that´s it for me today,  hope you all are enjoying August so far! 🙂