The Christmas Dress, or and update on the Blue Velvet Dress.
Do you remember the navy blue velvet dress I was about to make back in …ehem…September? Well, turns out, Vogue 8280 wasn´t really for me.
Because this was a style of dress I hadn´t tried out before, I decided to make a trial dress. A wearable muslin if you will. The pattern was great, and I had no trouble following the instructions. The dress turned out how it was supposed to do, I guess, but the style just wasn´t perfect. It´s not bad at all, matter of fact it IS a good dress, but I just wasn´t having that "Oooh! I LOVE this dress!"- feeling that I think is important for cutting into gorgeous velvet fabric. So I decided not to make a blue version, and I wore a completely different dress to the wedding (a thrifted 60´s brown lace shift dress), and I will save the velvet for another time.
Here is the completed white version of Vogue 8280, which became my Christmas Dress. For Christmas I wore it with red shoes and a red belt, here I´ve styled it with black accessories. Unfortunately, the zipper is broken. The funny thing is that I didn´t notice this until Christmas Day, because I need help to zip it up. And I hadn´t tried to zip it all up until then. That´s when we noticed it was defect. I used an invisible zipper, and it probably broke during insertion. I will unpick it and hand- pick another one at some point. So, if it looks like the dress is gaping, that is because it isn´t full closed. 🙂 When I wore it for Christmas, I held it together at the top using one of my mothers many pretty brooches.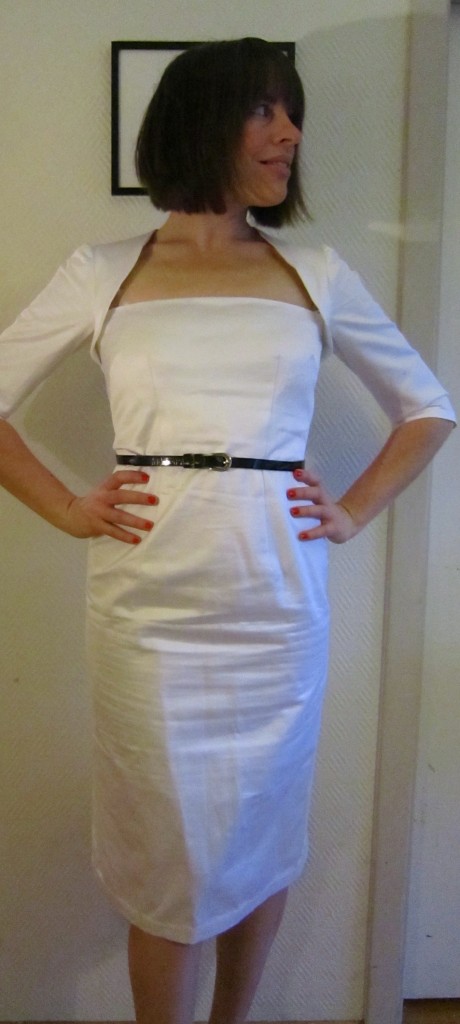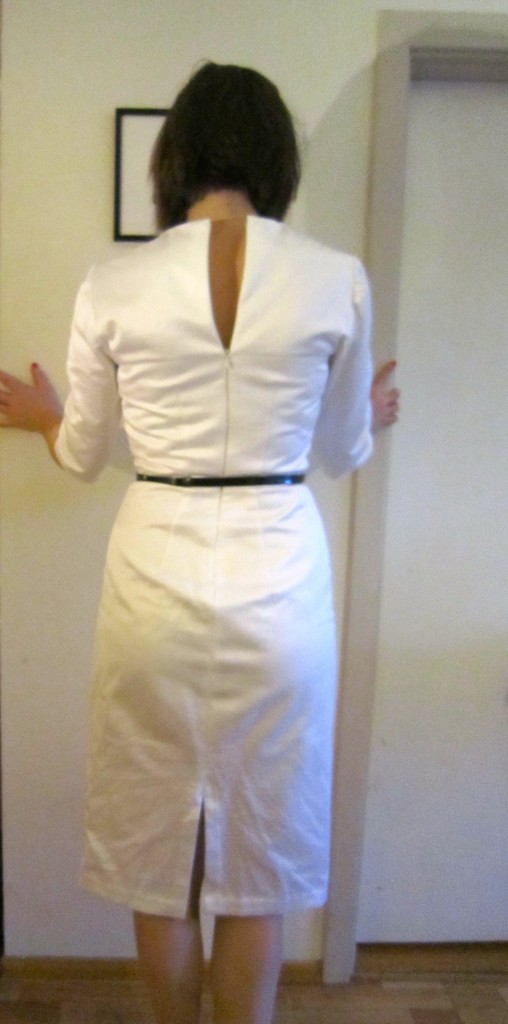 The fabric wrinkles quite easily, and is impossible to photograph, but other than that it´s perfect for this type of dress. I do have some more FO´s to share with you, but I have to wait for better lighting to take some decent pictures. You know, winter, Scandinavia, bla bla bla;-).
Until next time: Have fun!