Some summer sewing in March
This video is from Astrid Lindgren´s book/tv-series about Emil. This song is about how summer sometimes needs a little help, it really is a spring/summer anthem here:-).
So, over at the MMMar´11 Flickr pool, there have been some lovely spring creations, and I got inspired, and wanted to make something appropriate for warmer weather too.
As I did make a million summer dresses last year, I really can´t justify making even more (I´ll make spring dresses instead…), but I really wanted a pair of shorts for summer. I´ve been wanting a pair of high waisted shorts (shock…) and went through my stash to see what I could come up with.
First I found a small piece of indigo blue linen lingering in the back of my closet, not much more than 50 cm (but a full width of 150 cm). Then I went through my pattern stash, I first thought of making a pair of shorts out of Vogue 8604, but they are quite wide, so I didn´t have enough fabric. But then I remembered a pattern I won at an auction at Swedish ebay, Vi-mönster 2748: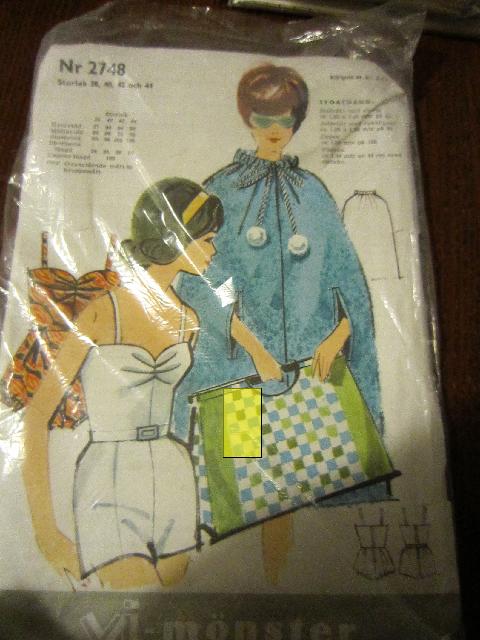 I love this pattern! Sigh… (It is one of the patterns I´ve paid the most for, as well…)
It was perfect for my agenda. I am planning to make the whole romper too, but this time I made the bottom part, and added a facing to the waist. So here they are, my new blue shorts!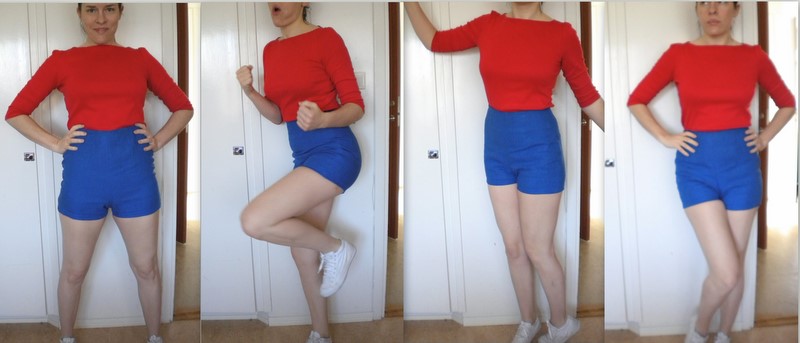 These shorts really makes me wanna jump up and down, run, and I feel a bit like Pippi Longstocking too, for some reason, as you can see from the first image:-).
A great thing about these shorts, is that they fit into both the Sewing Through the Decades Challenge, the Spring Palette Challenge, Stash Bustin´ and  Hepburn/Hepburn. Hurrah!