Last years challenge was an eye-opening experience for me, and over all, I think I did good. But I am really just now beginning to take control over the hardest part, and that is the desire for new things. Ali, of the wardrobe, reimagined, wrote a insightful post about this topic all the way back in June. Read it, if you haven´t, it is soo good!
For me, it seems like it always comes back to this: I really don´t need new stuff, but I still want it.
One of my best friends lives in Paris, France, and last weekend I had the opportunity to visit her, and at the same time take a glance at the fabric district at Place St. Pierre. There are so many beautiful things to crave! There are so much wonderful fabric, beautiful trims, ribbons and cute buttons. I bought my fair share of meterage, and more than one button. And why shouldn´t I? The prices and the range of all they have to offer is irresistible  for a Scandinavian. But, at the same time – why should I buy more? I have an extensive stash, I find lots of gorgeous fabric at thrift shops at home, and the latter type of fabric shopping is much more coherent with how I want to live.
I find that it is so difficult to be consequent when it comes to fabric shopping. Last year was all about stop buying retail clothing, and so I think this year will be more about the money spent on fabric, notions and supplies. I will try to plan my wardrobe for this year by looking at what I already got in my stash, (Stash Bustin´ if you please) and try to be creative with what I make.
There are so many things going on in the online sewing community, that I fear that it soon might explode ;.-). I want to participate in everything, but I know that I won´t be able to keep up with it all, so I´ll rather pick a few and try to stick to them. I will not be participating in any of the "traditional" sew-alongs that are on the roll now, I am more comfortable with events that are more "loose".  So this is my plan for 2011:
Learn to draft patterns.
Use stuff from my stash as much as possible (with a small budget opening for fabric buying while traveling).
Continue Hepburn/Hepburn and enter Sewing through the decades.
Participate in the Colette Spring Palette Challenge 2011.
Pay more attention to detail.
Sew more for others.
Draft patterns:
I bought two books about pattern drafting, published in 1939, that I would love to use as my way-in to drafting patterns.
The title is "Damskredderi" which translates into dressmaking.
There are two books, one with descriptions, and one with technical drawings and pictures. I am really looking forward to learning more about this craft!
I love the sleeves on this blouse! The technical drawing is for a coat.
Stash:
I have, over the year, attained a rather comprehensive stash of fabrics, notions and supplies, and I will try to use this as inspiration for my 2011 sewing.  However, I do know myself well enough that I know I probably will slip when I am traveling to New York and Edinburgh later this year, so I might as well give myself an opening for that kind of fabric shopping…)
Parts of my stash – elastic trims.
Hepburn/Hepburn & Sewing through the decades:
I have come along way on my Hepburn/Hepburn project, but there are still some items I´d love to finish. This project goes hand in hand with the Sewing through the decades challenge that Sarah and Debi have come up with. This project is right up my alley – I can use some of my newfound  1939 drafting skills, I can use some of my vintage patterns, and most importantly, this project isn´t as bound to time as many other sew-alongs are. This is important to me, as I don´t want deadlines on what still is my hobby!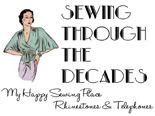 Colette Spring Palette Challenge 2011:
This is another challenge I´m up for, with more loose planning, and manageable deadlines, it also fits quite well in with my previously documented love of sewing in one distinct palette of color! A hint for my palette theme: Morocco.
Detail:
Attention to detail is what made me the most satisfied with my handmade items of last year. Both visible details like the embroidery on my Parfait and the piping on Ceylon, and more invisible details like hand-picked zippers and a rolled hem done by hand. I love to do more embroidery, and I´d love to incorporate more trims and crochet in my everyday wear, not just in the "pretty dresses".
Details, I want more details!
Unselfish sewing:
I love how my wardrobe is being revolutionized through handmade garments that fits me well, and I wish that everyone would have at least one outfit that they feel on top of the world in. So I will work more on sewing for others, it´s a great way for me to learn about other  fitting issues than my own as well as making people happy. I have started with two of my girlfriends, and my darling is also getting his share of the fun. And then I´ll take it from there!
Fabric for unselfish sewing, bought at Les Coupons de St Pierre in Paris.
So there you have it, a plan for 2011 – lets see how it´ll work out!