Sewing Through the Decades
Remember this post? Where I tell you all about what I want to do this year, and talking about joining the Sewing Through the Decades challenge that Sarah and Debi have put together. And then you heard nothing about it until I randomly threw newly made items into that category. Well, that´s basically how I´m approaching this challenge. My sewing agenda changes over time, and mood, stash and seasons all have an effect on what I sew.
Being part of this challenge for me, is all about exploring different areas of time, trying to mix old with new and think twice about how the new things I make fit into my wardrobe.
Sewing through the 50´s and 60´s.
So far, I´ve tackled some patterns from the 50/60. I´m not very good at dating patterns, so if someone would enlighten me on this particular topic (you know of a good pattern dating source, for instance?), I would appreciate it. I especially find it especially hard to date patterns that, in my eyes, just as well could be late 50´s as early 60´s. But I do love the style from this period, as well as the music from that area.
When we went to Atlantic City, we stayed at the Taj Mahal. None of us gambles, so the stay was more of a social-anthropological study…
When I was in the US last month, we took a trip to Atlantic City. Both me and my man have been watching the HBO show Boardwalk Empire, and we were curious about how the City was in real life. I have one word – surreal! The contrast between the gorgeous view of the Atlantic Ocean on one hand, and then the craziness of the casinos and the hotels on the other, is just impossible to describe. What a place! Well, anyways, ever since watching that show, I´ve concluded that the fashion of the teens and twenties are a bit more available, even for more curvy women, and so I turn to EvaDress for inspiration. A nice flapper dress is a must in any gals wardrobe, isn´t it? I´ll probably save this for the winter parties of next season. But who knows?
Oh, the contrasts.
I´d love to make something from vintage or repro 30´s and 40´s patterns, I have one candidate for a spring dress, but I´m not sure about raglan sleeves. I don´t really own anything with raglan sleeves, but I´m not sure this is because it´s unflattering on me, or if it´s just a coincidence. I have nothing against raglan sleeves, I just… don´t do them very often! I am also eying some of the repro patterns over at EvaDress. There are so many distinct and beautiful pieces!
A raglan sleeved 40´s dress I have in my stash.
For contemporary clothing, I really have no problem finding patterns, as I have my beloved Burda Magazines, and some Patrones as well. I don´t mind tracing the patterns, I´m so used to it. I remember from my early sewing days,  I didn´t know that the american patterns all included seam allowance, and I couldn´t understand why everything turned out too big! 🙂 You live and learn, that´s for sure!
A swedish pattern magazine from 1930 I got on an Tradera– auction last year.
As for the 80´s and 90´s, they are not included in my challenge. I really just more or less hate the 80´s, wether it´s fashion, hairstyles, makeup or even politics. You name it. 80´s are not my thing. The only styles from the 80´s that are acceptable to me are the retro 50´s ones… And then I´d rather just make 50´s dresses… As for 90´s, they are alright, but not something I will focus on.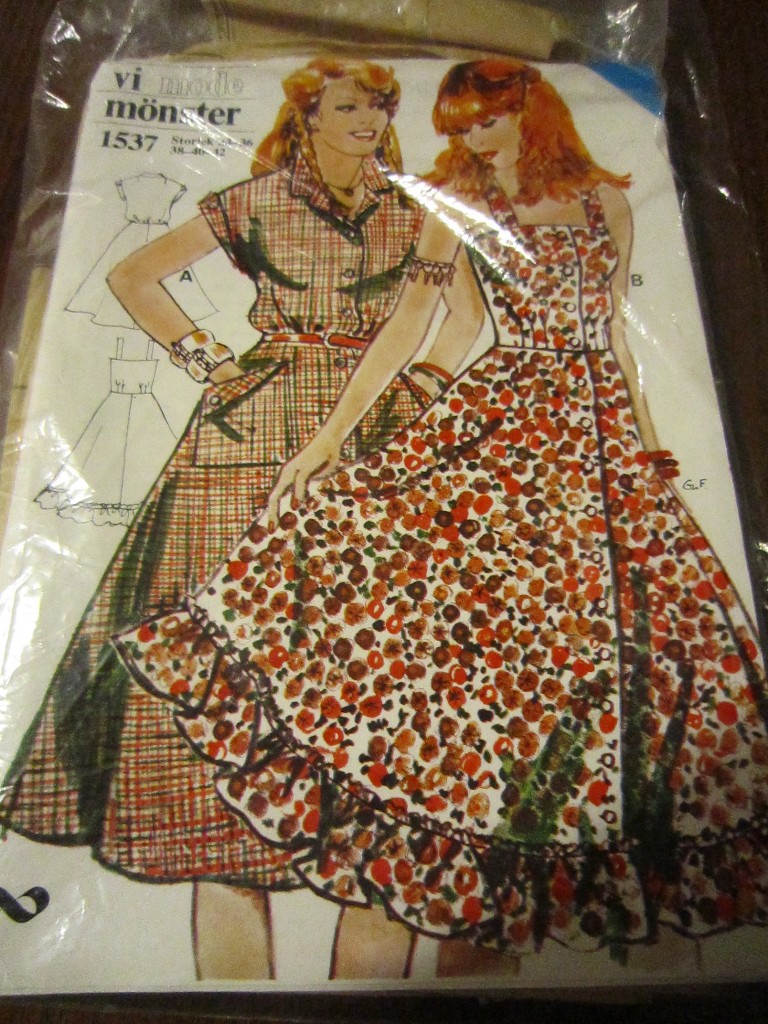 I´m making view A of this. I´ve already made view B, but might make another one...
The styles from the 70´s, on the other hand, I love!  I have some great patterns from the 70´s that I hope to make something from, in fact I have one dress all cut out and basted together, I just need some more interfacing before I can proceed. I want to make a pair of jeans overalls, and the dress pictured above. So, there you have it, my approach to Sewing Through the Decades!