Sewing plans: Vogue 8280.
A good friend of mine is getting married in November, and I really want to make a new dress for that event. Believe it or not, I don´t really have any winter appropriate party dresses, and you never know how the weather will be in November. Especially in a chilly church.
Before we moved, a friend of mine in Uppsala gifted me with a piece of fabric that had belonged to her late mother. Now, her mother used to work as a seamstress, teaching sewing to students, so the quality of the fabric is just wonderful. It´s a navy blue velvet, and I don´t bother taking a picture of it just yet, as the photos won´t do the velvet any justice.
For the last month or so, I´ve been trying to find out what kind of design I´d like for the dress. Velvet is a little tricky, and the fewer the seams, the better, in my opinion. Here are some sketches I did last week:

These are all based upon dress patterns I already had, unfortunately none of them really stood out as THE pattern.  Then, last night when I was watching The Daily Show, Olivia Wilde was the interview object, and she was wearing the most beautiful dress: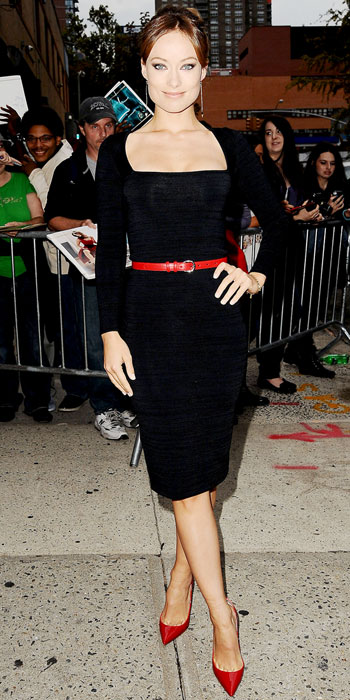 The square neckline is gorgeous, and the long sleeves are perfect for a November wedding party. The dress she is wearing seems to be in some kind of knit material and the dress design is by A.L.C.
This morning I scoured the interwebs to find an appropriate sewing pattern for this type of neckline. I believe that I have similar dress patterns in my Burda´s, but I made a square neckline this summer for a dress for my mother using one of them, and although it turned out okay in the end (thanks to the flexible cotton sateen I used), I don´t think  I could pull off a similar save with velvet. So I need nice and clear instructions and I need a well designed pattern.
Luckily enough, sewingpatterns.com have a Vogue sale right now, and I was able to snach up Vogue 8280. This is commonly known as Vogues version of the Galaxy dress, and people seem to like the pattern. There are some gorgeous versions out there, you should check them out!
The version I am making is a combination of C and F. I obviously want the square neckline, and also the straight skirt of F but not the puffy sleeves. Hopefully the pattern will be here in time, I´m really looking forward to make this!
So, that´s some of my sewing plans. What about you people, do you have any great velvet sewing tips? I´d love to know!