Refashioning for the tall
Now, I dont know about you, but I have more than once been fooled by the gorgeous pictures on somebody's blog where they are showcasing a smart and remarkably good- looking garment, refashioned from a men´s shirt. Just as many times, I have become disappointed about the unsatisfactory result when I try to do something similar. Why oh why isn´t the pretty shirtdress working for me? The answer in 9 of 10 times is: I´m too tall… I can´t make a dress from only one shirt. It just isn´t enough fabric! 🙂 I have yet to successfully add a bust dart too, the shirts I am using are never that big.  To illustrate: I rarely have enough fabric in one shirt to make a Sorbetto with a FBA out of it.
The largest refashion resource of mine is my darlings old shirts, which are usually in an European size XL. If you shorter and smaller than me, I can imagine that you can squeeze lots of different project out of a shirt like that, but for me (I´m 1.77), it´s just not that much fabric…Which is why I have been experimenting with optional ways of refashioning, and found a method I like. It really is quite simple, but I thought I´d share it with you all, and I hope it can be of help for others! I guess this method works for more body types than mine too, for instance  if you're plus- sized or busty, or if you just want to refashion a shirt that isn´t way too big.
For this refashion I am using the basic shape of New Look 6808: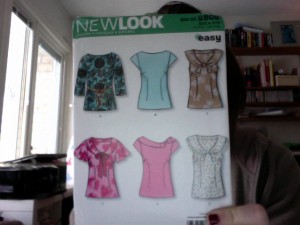 I am using the collar of view E, but I am adding sleeves.
I have made this top once before, but with a different view. The view I am making is using the same collar as Zoe used for a refashion a while back. Thanks for the idea, Zoe!
My first version using this pattern.
The first thing I did was to try on the shirt I wanted to use. This particular shirt is one I got at a charity shop a year ago, I just loved the print! Can you believe that this was in the men´s department? Fashion-wise it must have been so much more fun to be a guy in the 70´s than it is now…
When you are trying on the garment, look for changes you want to make:
Is it too wide?
Are the shoulder seams where they should be?
How is the sleeve length?
What about the hem, is it where you want it to be, or should your shorten it or alter it in another way?
Do you like the collar?
Are there any pockets?
Is there a yoke that you have to take into consideration?
I already knew what I wanted to do with the neckline, I wanted to add a giant collar! I found the shirt to be a bit too big, and I wanted a more fitted look, so I decided to take it in 4 cm in both sides, from hem to arms. I wanted short sleeves, and for the hemline to be a bit shorter. Although the shoulder seams are not quite right, I decided to let it be, as they will more or less be hidden underneath the collar.
The first thing I did was to cut out the right shape for the neckline. I used the pattern pieces from my pattern to get it right.
After I had cut out the neckline I shortened the sleeves. I measured 18 cm from the shoulder seam, and cut a straight line using my cutting mat as reference. You can hopefully see it in the picture below how I did that.
Then I tried it on again, making sure that the sleeve length turned out alright.
The next thing I did was to take the shirt in. I stitched one continuous seam from the hem and trough the sleeve.  When I had done that, I attached the collar, using the instructions from my pattern. I had a bit too much fabric in the back of the shirt for it to add up with the collar, so I folded it into a back pleat. Because of the huge collar, it is not even going to show.
At last I finished off the sleeves and the hem. I am quite satisfied with this one, although it is a bit off season…