Pattern Review: BurdaStyle Magazine 03-2010-101A aka The Summer Coat.
Back in May, after getting the flu from biking on a chilly night, I decided I needed a summer coat. Unfortunately, I lost my sewing mojo over the summer, and so this coat wasn´t finished until last week. The idea of this coat is to have something to throw over thin summer dresses in those cold summer nights we have up here in May and June. After taking these photos, I discovered that the coat is wearable in October as well, although teamed with some layers underneath, hat, scarf and mittens! 🙂
My initial idea was to make it out of linen, or something neutral colored, but when I stumbled upon this fabric when I visited a friend in Paris in June, I was sold. The fabric, together with the style of coat is a wee bit over the top, and must be carefully teamed with other garments to not look crazy. We discussed this during SSS, you know, where do the line go between "retro vibe", and "costumey"? I guess it´s all about accessorizing, and how a garment is worn, as well as that my own personal style limits are pushed further and further the older I get.:-) How do you resonate about incorporating vintage looks into everyday outfits?
Pattern size: 36-44
Pattern type: Raglan sleeve lined coat
Rating: Highly recommend
Pattern Description: Raglan sleeves, large Peter Pan collar and 7/8 sleeves. Fully lined and with welt pockets.
Did it look like the photo/drawing on the pattern envelope once you were done sewing with it Yup. Pretty much.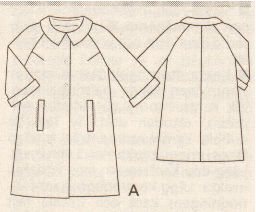 Were the instructions easy to follow? As per usual, I had my Vogue Sewing handbook at hand at all times when things got confusing in the pattern instructions, mainly for the welt pockets and the collar attachment.
What did you particularly like or dislike about the pattern? I really love the simplicity of the pattern and the clean lines. I also adore the collar, and the sleeve length. What´s not to like?
 Pocket detail
Fabric Used: I used a cotton jacquard I got at Les Coupons de St. Pierre in Paris. The fabric is navy blue and silver, and is actually equally gorgeous on the wrong side of the fabric. I had some initial thoughts about leaving it sans lining, but then thought I would get more wear from it if I did line it. The lining fabric is a navy rayon lining.
 A close up of the fabric
Pattern alterations or any design changes you made: I did a FBA on the bust dart. Otherwise, the only design detail I changed was to not roll up the sleeves.
Out for a stroll in the Botanical Gardens.
Would you sew it again? Would you recommend it to others? If I need this type of coat again, I will definitely pull out this pattern. The jacquard is rather stiff, but I imagine this coat getting a completely different look in a more flowy fabric. I can absolutely recommend this to others!
Conclusion:  A pretty, easy to make coat in an over-the-top fabric for those days when a little dressing up is in order!
Wow, so that collar really needs a better pressing! 🙂