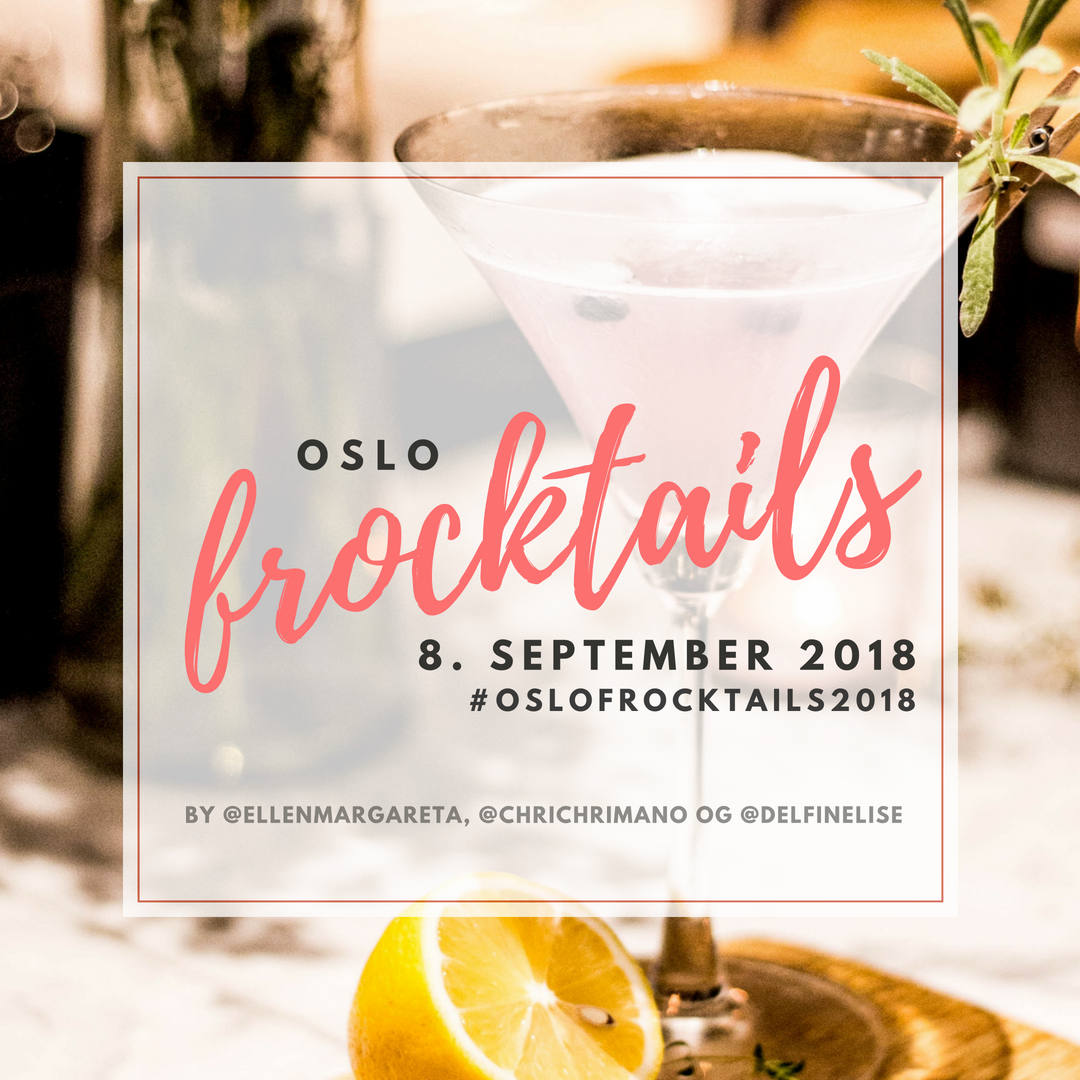 It´s finally time: Frocktails in Oslo!  
Join us for an evening of chit-chat about sewing, yummy cocktails and of course an excellent opportunity to bring out that extra special handmade outfit you´ve made, but don´t get to wear as often as you like. Or why not stick to the traditional frocktail-theme, and make a special outfit just for Oslo Frocktail 2018!
When: September 8th at 7PM
Where: TBA – depending on the interest for the event, we will either book a few tables at one of Oslo's prime cocktail bars, or we will make a private event just for us. What do you prefer? Please let us know in the comments!
Who: Anyone interested in sewing, particularly garment sewing, but all crafty types are welcome. We are a friendly bunch! No need to know anyone else, we´ll all get to know each other then and there – that is part of the point of this event.
By whom: @chrichrimano, @ellenmargareta og @delfinelise – avid seamstresses living in the Oslo area.
Save the date, and join us for a fun night of talking about sewing, delicious drinks and friendly sewists.
---
??  Oslo Frocktails 2018
Endelig er det Norges tur: Frocktails i Oslo!
Så hva er Frocktails? Bli med på en kveld full av syprat, deilige drinker og en gylden mulighet for å ta frem det nydelige, håndlagede antrekket du har sydd, men som du ikke får brukt så ofte som du hadde håpet. Eller hvorfor ikke gjøre som på en "tradisjonell" frocktailsamling: lage et nytt antrekk spesielt for Oslo Frocktail 2018! 
Når: 8. september klokken 19.00
Hvor: Et sted i sentrale Oslo – avhengig av interesse for eventet booker vi et- par bord på en av Oslos mange supre cocktailbarer, eller vi arrangerer et privat evenement bare for oss. Hva foretrekker du? Fortell oss i kommentarfeltet, da vel!
Hvem: Alle som er interessert i søm, spesielt for deg som syr klær til deg selv, men alle håndarbeidsinteresserte er velkomne. Vi er en hyggelig gjeng, og det er ikke nødvendig å kjenne noen fra før, halve poenget med arrangementet er å bli kjent med likesinnede syinteresserte folk!
Arrangører: @chrichrimano, @ellenmargareta og @delfinelise – tre syglade som bor i Oslo-området. 
Hold av datoen, og bli med på en artig kveld full av syprat, gode drinker og hyggelige syfolk!
Meld deg på nå:
Påmelding til Oslo Frocktails 2018