Me-Made-May: the third week
Wow! May flies by so fast. What to do when June comes around? I have no idea. Or actually I do. I have started on a new project. I am organizing my wardrobe. There are some great topics on the discussion board over at Me-Made-May Flickr Group, and I have got a lot of inspiration for how I will go about with my continued crafting when Me-Made-May is over.
Here are the highlights from week three: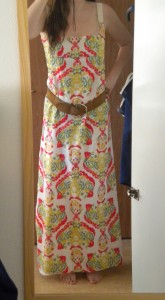 Day 21. We went to a Roy Hargrove concert here in Uppsala, the weather was amazing and the show as well, a great night!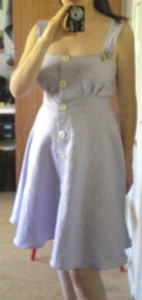 Day eighteen. Just a regular workday, but one of the first summer days here. Man, am I pale or what? No summer sun has touched my skin, that´s for sure… The dress is made using a vintage pattern from Sweden, I think it is from the 70ties. Loved the pattern, and think I will make another dress out of the same, but in a lighter fabric. This fabric is an old cotton/linen-blend table cloth I found at a thrift shop.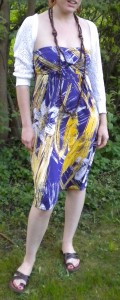 Day 19. Another warm summer day  (and still extremely pale legs). The fabric is bought at a sale at Ohlssons Tyger. And the pattern is a tunic pattern from Burda magazine 06/2009 pattern 113. I added about 30 cm to the length of the tunic to make it a dress. A fun pattern to sew!