Me-made-May: the first week
So the first week of Me-Made-May has passed, and I must say, it has worked remarkably well.On day three and on day six I had some trouble, as the outfits I was going to wear in one way or another didn´t work.
First, on day three the new black skirt I had made the previous weekend, and that I was going to wear, just tore apart. Like a stocking! Black stretch denim, just ripped. Very strange.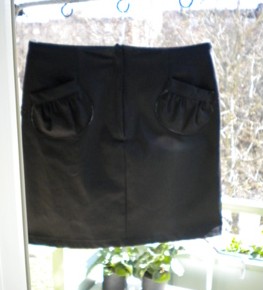 So I had to go for an old trusted friend, a skirt I made some year ago. It´s a pattern from a Burda Magazine. I use it all the time! the skirt I mean, not the pattern…
On day five I had planned to wear my black cotton sateen pants, but I forgot that they were in the laundry so I had to go for my IKEA dress instead.
I almost never wear this, I´m not entirely comfortable with the baggy shape of this dress. This pattern is from an Easy Fashion Burda Magazine.
Anyhow, here´s a link to my Flickr photostream of Me-Made-May.
To be continued…