Me Made March: Half way through!
So, peops, how´s it going with the MMMar´11? Judging from the Flickr Pool, it´s seems to be working out great for most.
Just to refresh your memory (and my own), here´s my vow for the month:
'I, Sølvi of delfinelise, enthusiastically sign up as a participant of Me-Made-March '11. I endeavour to wear as much me-made and refashioned items as possible, all depending on weather, and with the exception of tights and undies each day for the duration of March 2011.'
So far, I´ve only worn me-mades, not any refashions at all, actually. This is mostly due to the fact that I didn´t remember if I´d written it in my little vow (and didn´t bother to go back and check. Hello lazy…). Apparently I had, so for the rest of the month, you might see some refashioned items as well.
My neglected, almost finished jacket.
I am, for the most part, quite content with my month so far. The only thing I´m missing is outerwear. I am nearly finished with a cute transition appropriate coat/jacket, but I haven´t made the buttonholes yet due to:
random laziness
not having thread in the right color
fantasies about bound buttonholes (but that really is too late for this project, should have thought about that earlier)
my sewing machines buttonhole function has been going crazy lately
So really, I should go to the store, buy some proper thread, hand stitch my buttonholes, and ta-da! I´ll have a new jacket…
Enough about what I didn´t do, here´s what I DID wear so far: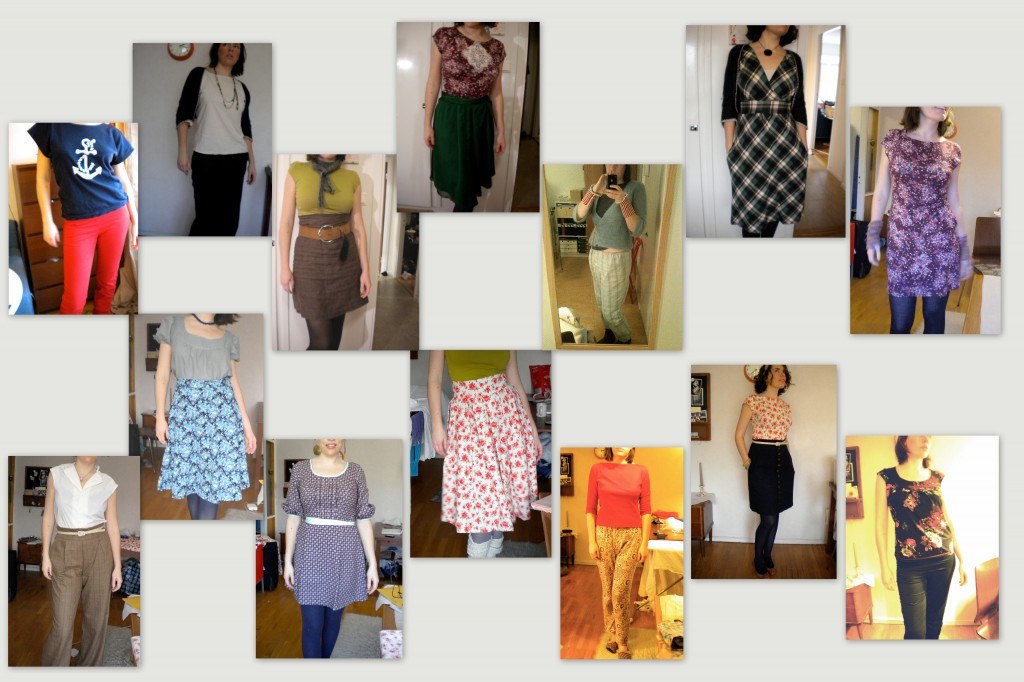 For details, check out my Flickr Set, I have all the pattern numbers and such there.
Except from one knit top, I actually wore different pieces each and every day. The oldest items are the black pants from day 15, the red pants form day 1 and the dresses made into skirts seen on day 3 and 4.  All those pieces are from 2005 – 2009. Everything else (I think) was made last year or this year. This tells us quite a lot about my increased sewing mania. 🙂
I hope MMMar´11 is going great for all of you who participates, wether you are able to document it or not. Happy sewing!