Me Made March ´11: The obligatory round-up post.
So, Me Made March 2011 has come to an end. Now, that was fast. I know I commented somewhere around day 20 that I thought March was long, but now I´m more like, where did the month go? But, what did we learn this time around?
I learned the following:
I love the concept of MMM/SSS.
I get so much inspiration from others! (You guys are the best)
I (still) have too few cardigans (with looong sleeves).
I now have enough me made clothing to take me, easily and with variation, through  a winter month (who knew?).
I love to wear a lot of different colors, despite my tries to add "palettes" to my wardrobe.
I really like some sort of waist definition. I believe 19 of 31 days fits into that category.
I prefer short or 3/4 sleeves. Only two items (the shirt of day 28 and the cardi on day 30) has long sleeves. This makes no sense in a winter climate…
I have no preferences what so ever when it comes to hemlines. I love them all! Above knee, below knee, tea length, mini, midi. I´ll take anything!
Although photographing can be fun, it´s not my favorite leisure time activity. Especially if I´m in a rush, the photos are a bit of a hassle!
Me made outerwear and sportswear are the biggest gaps in my wardrobe.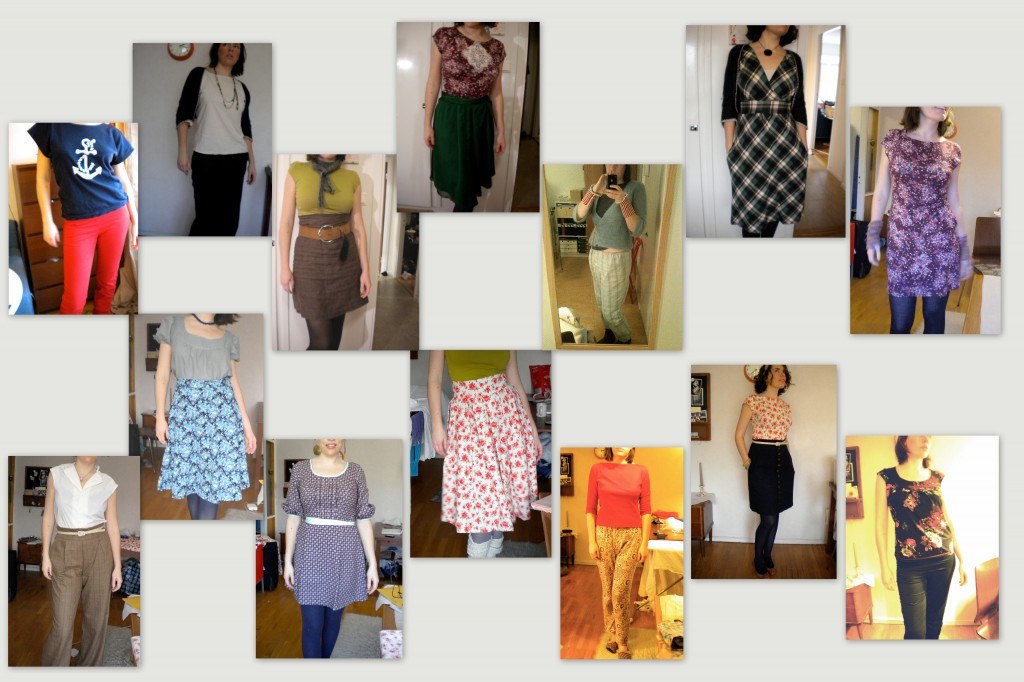 Days 1- 15.
During MMMay 2010, we had a little reoccurring post in the Flickr Group about this week favorite outfit. I remembered that too late, and forgot to introduce it to the MMMar´11 group. So I´ll give you my favorites here instead. My favorite me made outfits of MMMar´11 are day 2, day 14 and day 28.
Day 2 because it´s so comfortable, yet pulled together, day 14 because I love my new rose print top, and day 28 because I by chance discovered that the shirt went together so well with the skirt of that day. Yay! for coincidences.
I really want to thank Zoe for putting this together, and for all of you fantastic participants for being so supportive and inspirational! Cheers!