The missing jacket.
You may or may not know, that while I was traveling last autumn in Greece, I lost my precious corduroy jacket. The jacket was special to me because it´s one of the first items I ever made. Before I got the sewing machine I now have, I actually used an old mechanical Singer. The skirt pictured above is sewn using this, and the jacket has some seams made on the ol´Singer.
Photo by Miki Yoshihito, licensed under Creative Commons.
Although I started sewing this jacket in 2005, I didn´t actually finish it off until Self- Stitched September last year. It got a lot of wear during that one month, until I absentmindedly forgot it in the ladies room at Athens International Airport, never to be seen again.
Ever since that unfortunate incident, I´ve been wanting to replace it – I do love the pattern, and so I´ve decided to join the RTW Tailoring Sew-along over at pattern-scissors-cloth.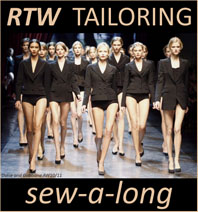 I will be using the same pattern as the missing jacket, pattern number 1 from the autumn issue of Burda Easy Fashion 2005. But I will make an FBA to the pattern, luckily there are princess seams on this one, so that´s an easy fix. Otherwise I liked the fit of the old one.
The pattern has a certain British, Agatha Christie-esque vibe to it, and I really love the cut of this jacket. I am using the same fabric as my Kate trousers, and so I´ll have a little matching outfit once I´ve done with this. And it fits perfectly into the Hepburn/Hepburn project, too, don´t you think?
The Kate Trousers
But, now I need your help; I have to decide which buttons to chose! These are my options: 1,5 cm brass buttons, 2 cm camel colored buttons, or self-fabric covered buttons. On the corduroy jacket, I used one big fabric-covered button, and I really liked the look of that, but I´m not sure about what to do just yet. What do you think?
Two of the button choices.
Are you joining the Sew-Along?