Roobedoo posted a question on my last post regarding the length of the header dress: She wondered wether this was a new length for me. An excellent question, and I know she has elaborated a bit on the topic of work appropriate lengths on a recent blog post of hers, you should definitely check it out!
To answer the question, the answer is no, this is not a new length for me, but the fun thing about this question is that it got me thinking about hemlines. What is a good skirt length for me? And what is a good skirt length for others? I went through my closet, and pulled out some skirts I have made the last couple of years to see if there were any similarities in lenghts: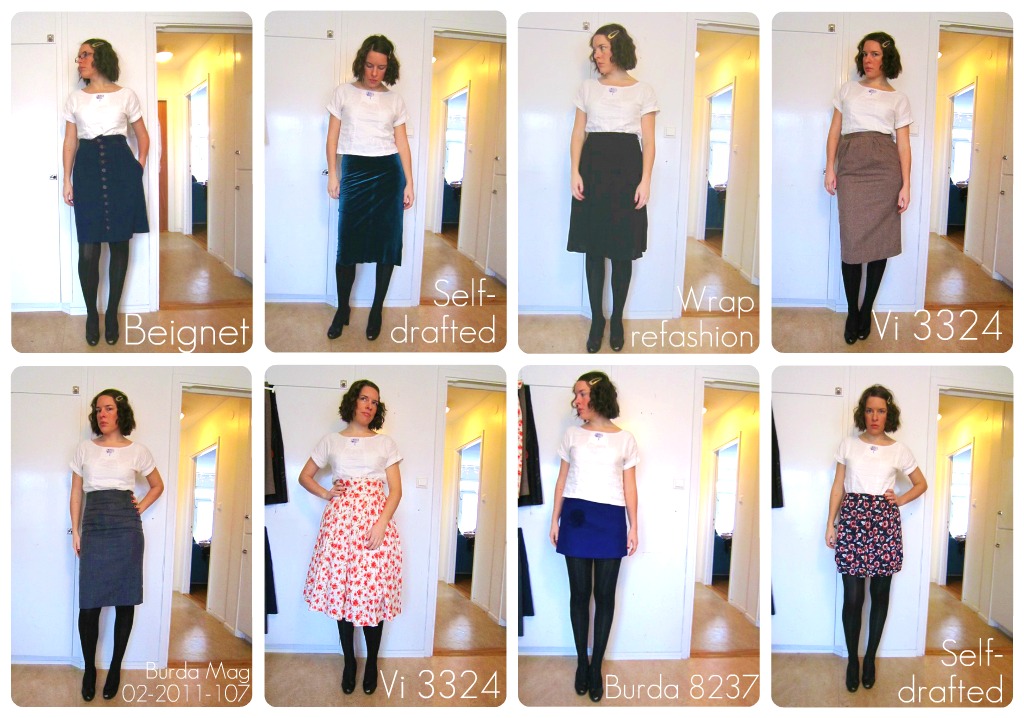 I have taken a pic of all skirts wearing the same top, tights and shoes, just to make it easier to compare the lengths.
The results are inconclusive. I seem to wear all kinds of lengths! Although most of my skirts are "around knee", I have some that are shorter as well, for instance, I have made Burda 8237  three or four times, so shorter lengths attract me as well as longer. The funny thing is that a lot of the skirts I make come out shorter than I intend. I am ten centimeters taller than the average height that the pattern companies uses, and so I really should add at least ten centimeters when I make skirts, but I end up adding too little, and most of my skirts thus become shorter than I plan for them to be.
I love pencil skirts that has a mid-calf hem line, but I never seem to manage to make one for myself. Actually, taking these pictures of myself, made me aware that I think that my skirts are longer then they in reality are! Both of the Vi 3324 patterns for instance, are intended to be tea-length. Yeah, right. They are both obviously ending just below knee. 🙂 The same goes for Burda 02-2011-107 too. I was supposed to make it below knee, but there was too little fabric. Note to self: If I want a skirt to be both high-waisted and mid- calf, I need 90 cm of fabric, not 60 as I in my imagination think I need…
It´s funny that a seemingly insignificant detail of a garment like the length can cause such a stir. I mean, how many other parts of a garment have been affected by the stock market?  Some women are very specific about their hemlines, I have friends who only have a small flexibility between just below knee and mid-thigh, others never go above knee, then there are even those who never wears anything but maxi skirts. Fascinating.
With all that said, I fuss very little about the length of my skirts. I seem to wear whatever length. I am aware of that having those extra ten centimeters makes more hemlines available for me than for others. And so to my next point.
I try to sew for others as often as I can, but most of my friends and family live far away, so fitting becomes difficult. And since I know that hemline placement is an issue for others, it´s tricky to know how the length of a garment will look on that person. I know that there are some opinions out there that say that shorter women should stick to knee- or above knee length. What do you think, are there any general rules of what is flattering on women of different heights and shapes, do you think, or is it a individual thing, depending purely on the tastes of the specific woman? I´d love to hear you opinion on this, and also what your favorite skirt lengths are!
I for one, will try and make at least one mid-calf pencil skirt this year!