FO: Cocoon cardigan from burdastyle easy fashion
Cocoon jacket
Look what I made! On a whim, I decided that my wardrobe was in desperate need of a cocoon cardigan. Actually, from idea to finished project, I think it took less than 24 hours. That must be a new record for me. I love to plan things, and most of the things I´ve made have been planned for months. Actually, for years at times. But this project? Fast as a fox. Or a cheetah, rather.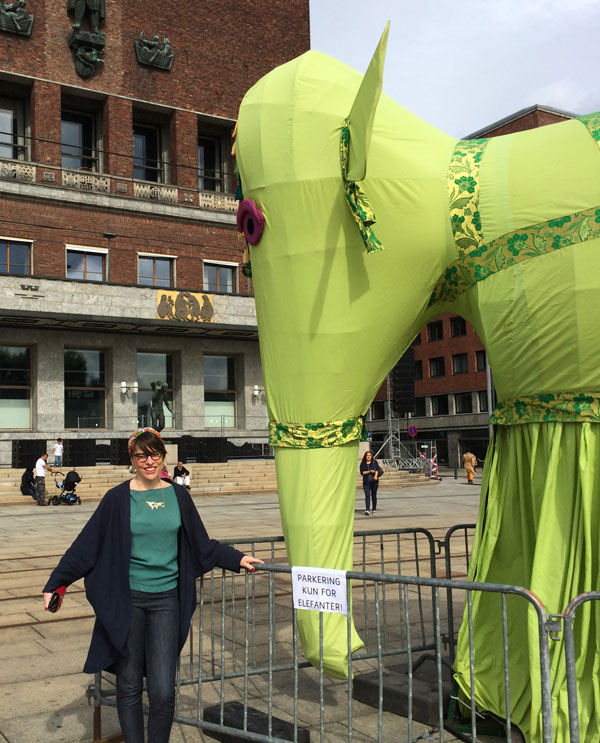 This is the only picture that actually showed some of the cocoon-ness.
My apologies for closed eyes and awkward pose.
The facts
Pattern: BurdaStyle Easy Fashion autumn 2013 Cocoon jacket
Fabric: Navy blue knit fabric from Stoff & Stil (can you believe that this had a fabric width of 185 cm – very cool!)
Details: This pattern is one of those that you make yourself on grid paper based on a diagram in the magazine. It´s only two pattern pieces that are drawn, the rest of them are rectangles. I made my sleeves a little different by adding self-fabric cuffs. Oh, and I added pockets in the side seams.
Sewability: This pattern is as easy as pie. You have just a few seams, no real fitting issues, and basically a super forgiving design.
Random stuff about project: I love it. It is the most perfect way of wearing a blanket out in public. Actually I would love to make another version from a blanket. This would, by the way, make a perfect project to make as gifts, as it has no fitting issues, and it is very fast. Win!
Elephant
Yes, I am standing next to a giant elephant.  And yes, that is City Hall in Oslo in the background. And you know what the sign says? "Parking, only for elephants". Hurrah for Melafestivalen, a giant free festival for artists from all over the world. Both today and yesterday, I went to the events with international classical music, and listened to lots of beautiful Pakistani and Indian classical music. If there ever is a concert with this kind of music in your neighborhood – go! It´s so worth it. I leave you with one of the artists I listened to today, one of the few female North-Indian classical musicians, Sudeshna Bhattacharya. Enjoy!
[su_youtube url="http://youtu.be/0xfUe92Pvig"]