Blogger´s meet up, traveling, embroidery,non-sewalonging, and other interesting stuff.
Thanks all for interesting comments on my last posts!
You know, sometimes, I have so many different things to say, I just don´t know how to get everything said. So. Prepare for a long and diverse blog post!
Yum! Tapas at Café Andaluz in Edinburgh. And if you look closely you´ll see a glimpse of Ceylon, getting tighter around the waist for every bite…
First and foremost. My darling and I went to Edinburgh over Easter! And apart from eating and drinking lots of yummy food and IPA, we also did a fun meet-up with the lovely ladies Kristen of KristenMakes and Debi of My Happy Sewing Place. It was so much fun to meet up with some fellow bloggers! And that it was in the beautiful town of Edinburgh didn´t make it worse…
First we went and took a fika* at the Elephant House, a cozy café known for being the place where J.K. Rowling wrote the first of the Harry Potter books. They had a VERY good coffee, and Debi, Kristen and I chatted about this and that, trying not to make my darling (and press photographer) too bored with sewing talk ;-).
Then we went to Edinburgh´s most famous vintage shop, Armstrong´s & Son´s. They had some interesting pieces, and lots of tartan, tweed and cashmere, of course. Being in Scotland and all, I mean! I got a stripey frotté jacket there, in white, red and blue. I think it will look dashing with my blue shorts on a summer afternoon.
Look at those happy faces! Debi to the left, me, and Kristen to the right. And yes, that is the jacket I bought. And have you ever seen so many cute little hats hanging from the roof?
We did some more vintage shopping at Barnardo´s, where my darling took this picture:
Some serious pattern browsing going on. Seamstresses in there natural habitat, be aware!
The box we are all leaning over is full of pre-loved sewing patterns. Is that explanation enough? The funniest part of this pic is that neither of us noticed that he took the photo, so absorbed by the patterns! 🙂 What can I say? Kindred spirits think alike. Did I mention how much fun I had? It was sooo nice to meet these lovely gals, thanks for me showing me around the Grassmarket!
Hats heaven.
The last place we visited was hat enthusiast Debi´s idea, the hat shop, Fabhatrix. Oh, the gorgeousness in that place! I´d love to save up for one of their unique and hand made hats.
Again, so nice to meet you, Kristen and Debi! And to everyone in the UK, there is a big blogger meet- up in London in May, so far it seems to be around 40 bloggers meeting! How cool is that? I wish I could go, but it´s a bit far to travel once a month to UK… but if you´re in the UK you should go! It was so much fun meeting with fellow bloggers IRL!
Of other craft related things I did in Edinburgh was to buy the book Doodle Stitching, the Motif Collection by Aimee Ray. I just fell in love with all the cute little motif´s. There really is something for every occasion. When I got home from Edinburgh, the weather in Uppsala was absolutely lovely, and I traced off one of the motif  and spent sunday afternoon embroidering on the balcony. Lovely!
Doodle Stitching on the balcony.
Just before we left for Edinburgh, I got some new patterns in the mail. And when I came back home, I was really inspired to make something from them. One of them was the Simplicity Lisette pattern number 2245.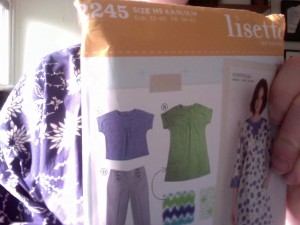 Simplicity Lisette 2245. Great pattern!
I got the inspiration to make this from Debbie of Minnado´s House two fabulous versions. She made both a blouse and a tunic/dress. My original thought was to make the tunic as well, but then I put two and two together and combined my newly finished embroidery with some white linen fabric form my stash, and my yearning after a white blouse with lace inserts, I came up with this:
Look! It´s spring!
I did some alterations, as the original neck line wasn´t what I was looking for right now, I just omitted it, and finished the neck edge with some bias tape instead. I am quite content with this blouse, as it really fits into my plan for sewing this year, it has a lot of detail, it is very versatile, it works good with both jeans, shorts and skirts, and I think it will face a heavy rotation this summer.
Detail from the blouse, the stitching and some vintage lace from my stash. The lace is hand made by either the mother or the grandmother of my sister in law. So pretty!
Speaking of summer, are you all joining in on Me Made June´11? Personally , I was a little relieved that Zoe decided to make it a June challenge rather than a May challenge, as in June I get to wear more of my summer clothes. I still need to make a jacket, though, as I am spending some days up north where the evenings still can be a bit chilly in June.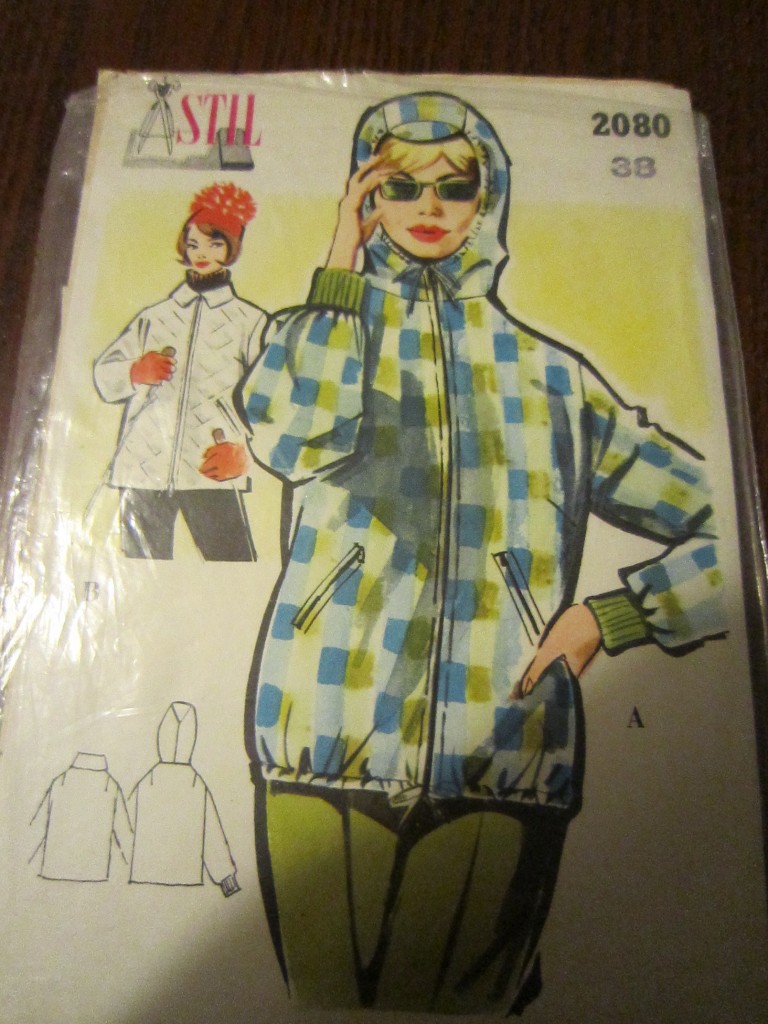 The jacket I´d like to make in a wind proof poplin for chilly summer evenings.
And apropos jackets, I am not finishing the RTW Sew-Along at this point. It is a shame really, because I really want to make a jacket using Sherri´s excellent descriptions, but I feel that I need more time to really learn all of this! And at the same time, the style of jacket I was making isn´t really summer appropriate, so I will put this project on pause until the autumn. But a big thanks to Sherri for hosting this! She is so thorough and makes complicated processes seem so easy!
I haven´t made a round-up post about what I made in March, I was a little tired of taking photos of myself after MMMar´11:-). So I will make one for both March and April. I ´ll tell you this much, that I´ve finished at least one summer dress….Oh, well. What can I say? I´m hopeless…
Alright, so I think that was all for now, next up will be some shirtmaking progress!
Look who decided to show up at my balcony? So cute!
*fika is the Swedish word for taking a coffee break.