More or less one year after I started it, I finished the chunky and cabled cardigan Aidez designed by Cirilia Rose. With 2551 finished projects in Ravelry´s database, this is one POPULAR cardigan. This is my first major cabled project, I have knitted some mittens and stuff with smaller patches of cables, but this one consists mainly of cables. I have to say that it wasn´t at all especially difficult. It was actually surprisingly easy!  The main reason for me using one year to finish this, was that between February 2012 and November 2012, I didn´t knit a stitch on it…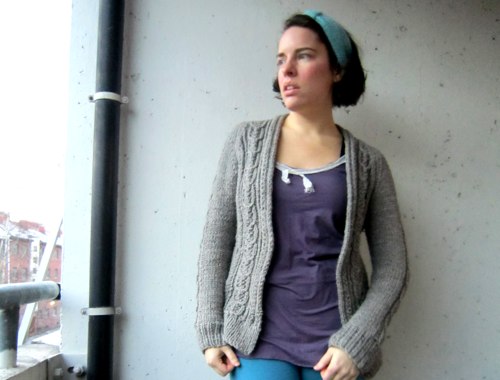 Aidez teamed with some me-made lounge wear. 
The actual knitting process was very entertaining, and quite fast. The yarn, Eco-Ull from Viking Garn, is soft, warm and wonderful to knit, and helped making this such an enjoyable project. The only thing that I´m not quite satisfied about with this cardigan, is the length. I wish it was a little longer. But to be fair to the pattern designer, I must confess I haven´t yet blocked it properly (I was so eager to wear it), so I suspect I can adjust the sleeve length a little with a proper blocking session. The problem is just that it is too darn comfy not to wear all the time!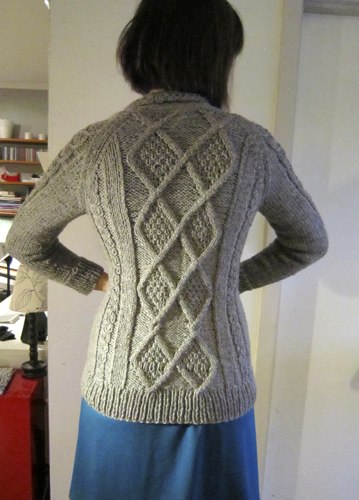 The back view of Aidez. Can you spot the mistake?  
This cardigan has such a specific look and feel to it, that I probably won´t make another one, but it certainly filled a gap, and I have been using it loads since I finished it. I would recommend the pattern to others, as I found it easy to read, and it looks more complicated than it is. Because of the chunky yarn and the fairly thick needles, it knits up fast, too. So if you have been thinking about knitting this one – go for it!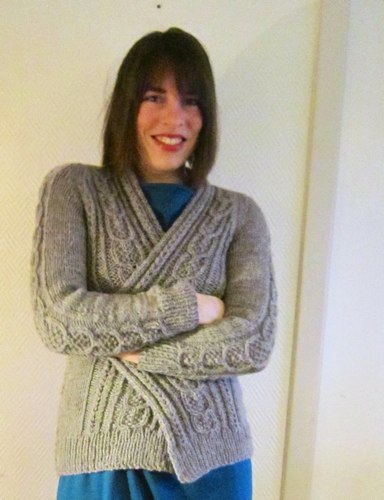 A happy, yet pixelated gal sporting her new Aidez cardigan!