Sarah of Rhinestones and Telephones is hosting a sew-along, and as I have become addicted to sew-alongs these past couple of months, I joined her! Thanks, Sarah!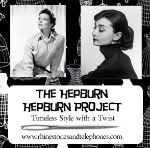 The project is to sew up some items this autumn with the inspiration from Audrey and Katharine Hepburn.
I´ve always been a huge Katharine Hepburn fan, and I love her style, so that´s an easy style icon to follow for me. And Audrey isn´t bad either;-). My favorite Katharine Hepburn movie of all time is Woman of the Year, from 1942. It´s (apparently) the first movie where Hepburn plays together with Spencer Tracy, but certainly not the last – they teamed up plenty of times after this. I love how they made movies back in the old days, and the little jokes and the plot, and off course, the fashion.
The most fun thing about movies from the 1940 is how, on a close up of a woman, the image is dozy, like she is in the middle of a shiny cloud (using back light, I suspect), but when the camera closes in on men, it´s a more natural light. LIke in the trailer here:
Fantastic. Anyhow. The film´s great, and I recommend it. Not only is there a great plot (we always hear about the feminists of the 1970´s, but what then about this gang from the 1940´s, or even those who came before and gave us the right to vote?), it off course also have some scandalous fashion items in it!
So, the items I have chosen for this sew-along are supposed to reflect what I need for the autumn/winter. I´ve been sewing summer dresses for so long now, that I´m not sure I even know how to make anything else…
And here are the nominees:
There you have it, my plan for the Hepburn Hepburn project! See you at the Flickr Pool!